What's the Most Popular Genre In Your State? Mixcloud Reveals...
What type of music does your state love the most? Mixcloud apparently has the answer.

Everybody has their scene. Some cities may have more diverse shows than others but regardless of where you live, you have a scene that you support. Depending on market, where you live could actively support one type of music or all types of music. If you were curious what your area preferred in musical taste, you're in luck.

Popular steaming platform, Mixcloud, has done a study on the popular genre of music in each state based off of the data collected by their users over the last year. Depending on where you live, the results may surprise you.
For example, would you have guessed that Utah's favorite genre of music is "Psychedelic"? Or "Electro Swing" for Wyoming? Yeah, me either. A map with results for all of the states can be found below.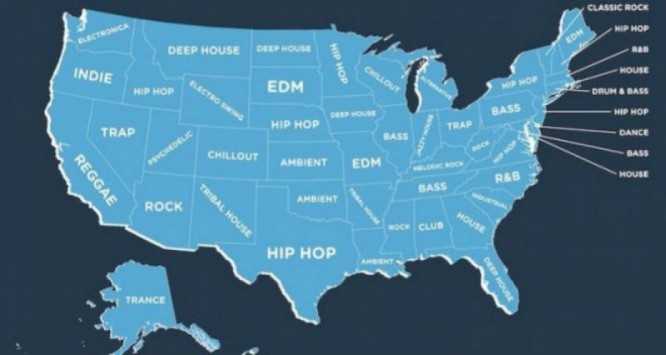 (photo credit: Digital Music News )
In response to the study, Mixcloud's Co-Founder and Director of Content explains the the results of the study.
"This data not only shows how much amazing and fascinating content lives on Mixcloud, with an increasing amount of it exclusive to Mixcloud, but also the diversity of it, from reggae and hip-hop to political Podcasts and work-out mixes. The breadth of Mixcloud's content, as well as the scope of its reach, will only continue to expand heading into 2018, with many more incredible exclusives on deck. We couldn't be more excited to kick-start the new year."
What do you guys think? Did they get it right with your respective state?
Alabama: Club
Alaska: Trance
Arizona: Rock
Arkansas: Tribal House
California: Reggae
Colorado: Chillout
Connecticut: Drum & Bass
Delaware: Dance
Florida: Deep House
Georgia: House
Hawaii: Tropical House
Idaho: Hip Hop
Illinois: Bass
Indiana: Jazzy House
Iowa: Deep House
Kansas: Ambient
Kentucky: Melodic Rock
Louisiana: Ambient
Maine: EDM
Maryland: House
Massachusetts: R&B
Michigan: Alternative
Minnesota: Hip Hop
Mississippi: Rock
Missouri: EDM
Montana: Deep House
Nebraska: Hip Hop
Nevada: Trap
New Hampshire: Hip Hop
New Jersey: Hip Hop
New Mexico: Tribal House
New York: Hip Hop
North Carolina: R&B
North Dakota: Deep House
Ohio: Trap
Oklahoma: Ambient
Oregon: Indie
Pennsylvania: Bass
Rhode Island: House
South Carolina: Industrial
South Dakota: EDM
Tennessee: Bass
Texas: Hip Hop
Utah: Psychedelic
Vermont: Classic Rock
Virginia: Hip Hop
Washington: Electronica
West Virginia: Rock
Wisconsin: Chillout
Wyoming: Electro Swing
Washington DC: Bass