Unlike Pluto Releases Awesome Rendition of Classic Hit "No Scrubs"
Roses are red, violets are blue, Unlike Pluto just released a new tune! Just in time for Valentine's Day, this talented songwriter and producer has gifted us all with his rendition of the classic 90's hit, "No Scrubs".
This song is the perfect throwback and tribute to TLC, keeping the fun in the song but changing it up a bit to fit our generation. Joanna Jones covers the vocals perfectly mixing with the sounds and adding her jazzy style into each lyric. This song was posted today on YouTube by Trap Nation, and fans are already raving about it. Who doesn't love a great new twist on a classic jam?
Unlike Pluto, or Armond Arabshahi, is a one man band born in raised in Atlanta. He majored in Biology at Emory University then packed his bags to LA to pursue his dream career in music. He started making remixes about two years ago, starting with a mix on Diplo's "Revolution". Since then he has remixed tracks from Tritonal, Jason Derulo, Twenty One Pilots, Lost Kings, and more. He has even had the chance to release a few of his own original singles, with a number of them reaching over one million plays on SoundCloud. Starting March 31st, he will be hitting the road on his newest USA tour, Everything Black Tour. The tour is 3 months long and will be hitting cities all the way from Washington DC to Los Angeles. So, check out his newly released rendition "No Scrubs" ft. Joanna Jones and the Everything Black Tour dates to see if Unlike Pluto will be hitting a city near you
Everything Black Tour
March 31 – Ottawa, ON
April 1 – Montreal QC
April 2 – Winnipeg, MB
April 6 – Denver, CO
April 7 – Austin, TX
April 8 – TBA
April 9 – Phoenix, AZ
April 13 – TBA
April 14 – TBA
April 15 – Minneapolis, MN
April 20 – Ferndale, MI
April 21 – Toronto, ON
April 22 – Athens, OH
April 27 – San Francisco, CA
April 28 – Milwaukee, Wi
April 29 – Chicago, IL
May 4 – TBA
May 5 – Portland, OR
May 6 – Seattle, WA
May 12 – Los Angeles, CA
May 13 – TBA
May 18 – Washington, DC
May 19 - TBA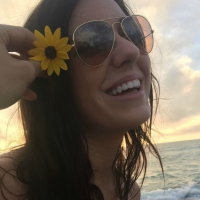 Rachel Woods
My hobbies include long walks to the main stage, pretending I know how to shuffle, and searching the Internet for sick new drops.