Following Grammy Win, Flume Releases 'Skin Companion II' EP [LISTEN]
Last Sunday at the 59th annual Grammy Awards, Australian artist Flume took home the coveted Grammy Award for the Best Dance/Electronic Album.
Flume has made it quite clear why he was deserving of one of the music industry's top honor, by releasing more new material as part of his Skin Companion II EP. With 4 new tracks, Flume debuts a decidedly darker sound than the original Skin album including a visceral debut collaboration with rapper Pusha T on "Enough."
Skin Companion II also features collaborations with vocalists Moses Sumney and Dave Glass Animals, helping to shape the new EP into a well rounded body of music rather than just stand alone singles .
Flume will be embarking on a short live tour in the coming months, so be sure to catch the Aussie prodigy when he comes to your city!
FLUME LIVE
2/18: Los Angeles, CA—Air + Style
3/2: Okeechobee, FL—Okeechobee Music & Arts Festival
3/3: Phoenix, AZ—McDowell Mountain Festival
3/23: Bogotá, Colombia—Festival Estéreo Picnic
3/25: São Paulo, Brazil—Lollapalooza
3/31: Buenos Aires, Argentina—Lollapalooza
4/1: Santiago, Chile—Lollapalooza
6/2: New York, NY—Governor's Ball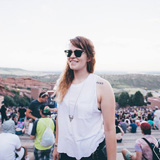 Devin Culham
Born and bred with the Detroit techno scene, I pledge my allegiance to the underground.