Major Lazer Shake Up Ed Sheeran's 'Shape of You' With New Remix
Ed Sheeran has become a household name with the help of his international hits 'Thinking Out Loud' and 'Photograph'.
Now Ed Sheeran has just released a brand new remix of his successful single "Shape of You" with the help of a little rhythm and dance courtesy of EDM superstars Major Lazer. Featuring vocals from Nyla and Kranium, "Shape of You" takes on a little dancehall flavor in this reimagined remix.
"Shape of You" is the first follow up to Major Lazer's most recent original release "Run Up" featuring Nicki Minaj and Partynextdoor. Major Lazer have already released two hit singles "Cold Water" and "Believer" from their upcoming album Music is the Weapon which is expected to release later this year.
H/T: Dancing Astronaut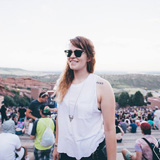 Devin Culham
Born and bred with the Detroit techno scene, I pledge my allegiance to the underground.