Osheaga Music Festival Releases Ridiculous Line Up for 2017!
The 11th annual Osheaga Music Festival in Montreal, Canada just dropped one of the most diverse line ups in North America. Osheaga has come to be known as one of Canada's longest running and biggest festivals and will return this summer on August 4th-6th.
The 3-day festival passes went on sale with the line up announcement and are starting at $ 310 CAD (or $233 USD) for general admission. There's not many festivals in the world with a budget to successfully pull off such diverse line ups in terms of genre. The problem with doing a festival with so many different genres is attendee's only end up going for the few acts they like, which is why a big roster is needed to make the festival worth the price. Osheaga has been able to bring forth a great representation of artists in Indie, electronic, rock, hip hop, pop, R&B and more. This is truly a festival that has something for everyone.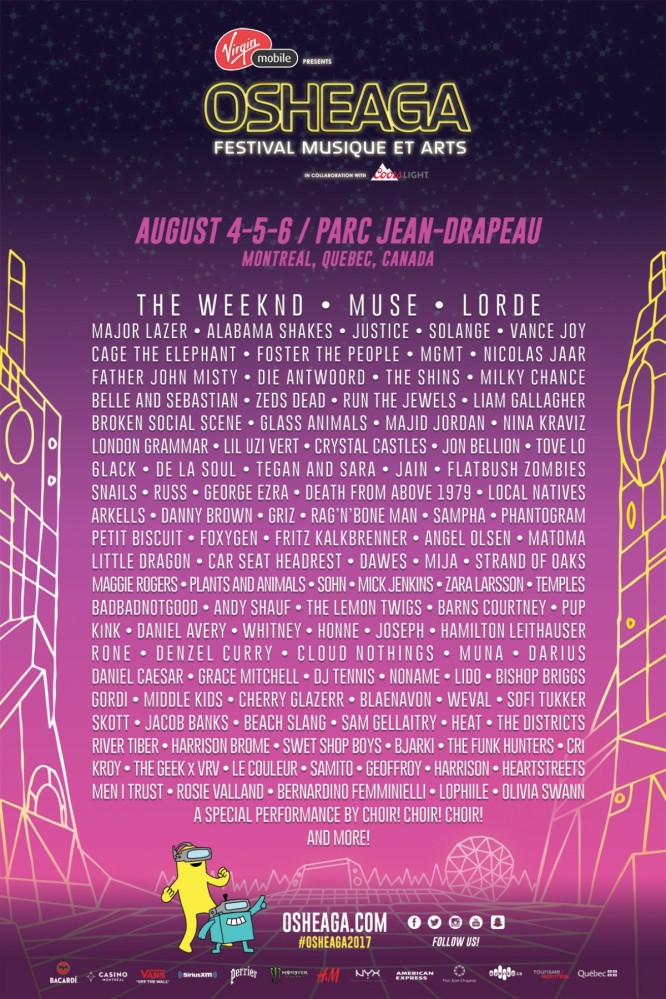 For example, the electronic acts include Justice, Major Lazer, Nicolas Jarr, Crystal Castles, Zeds Dead, Griz, Phantogram, KiNK, Snails, Mija, Lido and more. If you're a fan of electronic music, you can probably tell how diverse those acts are among each other, let alone the festival. They nailed the sub genres of electronic music and have headliners of the scene gracing the stage.
The same can be said for acts like The Weeknd, Run the Jewels, Danny Brown, Die Antwoord, Flatbush Zombies, De la soul, 6lack, Lil Uzi Vert showcase the many shades of rap, hip-hop, and RnB, that are currently the top in their genre.
Acts like Muse, Lorde, Vance Joy, Alabama Shakes, Milky Chance, Father John Misty, Foster the People, MGMT, give a platform for fans of indie and alternative genres to join the sea of festival fans from across Canada.
. The point is each act is worth seeing and has headlined shows on their own. The line up has gotten positive reaction from fans despite the genre bending line up, which is always a great sign of booking success.
Tickets are on-sale now at www.osheaga.com.