Prawn sex … and other future sounds of Russia
Summary/Commentary:

In a massive industrial warehouse space, one Russian billionaire helped to fund the return of Moscow's avant-garde art's scene at Geometry of Now
Leonid Mikhelson, the richest man in Russia, stands on a balcony overlooking the main hall of GES-2, a disused power station, as Moscow's art crowd mill around him. It's the opening night of Geometry of Now, a festival of sound art and club culture staged by his foundation, VAC.
Curated by British artist and electronic musician Mark Fell, the four-day festival's attractions include a man playing one note on a cello for an hour; a lecture on gender, politics and sound by the transgender musician Terre Thaemlitz, and a late-night DJ set by Detroit techno legend Anthony Shakir – along with 15 sound-based installations around the building, one of which is a vastly amplified recording of prawns having sex. So – given that Mikhelson paid for it all – which is his favourite artwork?
"My daughter," Mikhelson tells the Guardian through an interpreter. Victoria Mikhelson is the "V" in VAC (somewhat improbably, the foundation's full name is Victoria, the Art of Being Contemporary). A 23-year-old art history graduate who studied at New York University and the Courtauld Institute in London, she is one of the prime movers behind Geometry of Now. Her father, meanwhile, is the boss and major shareholder of Novatek, the Russian gas company. Forbes currently estimates him to be worth $18.2bn (£15bn). As the overhead heaters roast an audience preparing itself for the doom-rock sonic assault of Sunn O)))'s Stephen O'Malley and Muscovite underground artist Alexey Tegin, the suited Leonid may look a little out of place, but he's taking the event in his stride. Is he looking forward to O'Malley and Tegin's bone-chilling mixture of Buddhist chanting, industrial crashing sounds and howling guitar?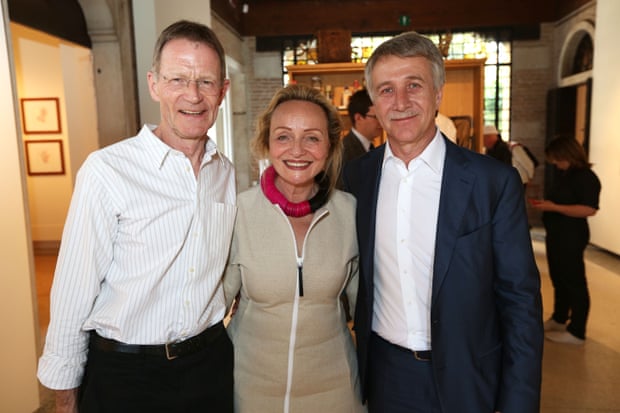 (Image courtesy of Alex Maguire for Rex/Shutterstock)
"I don't know anything about it," Leonid says. "I will be seeing it and being surprised, just like you."
Geometry of Now marks a new chapter in Russia's relationship with art. Once the home of artists who defined the avant garde – Malevich, Kandinsky, Rodchenko – the Soviet Union put an end to free artistic expression, while the iron curtain made any dialogue between Russian artists and their counterparts in the rest of the world near impossible. Glasnost took Russian art out of the deep freeze, then in 2003 the first commercial gallery for western art opened in Moscow. "People had never seen an original work by Warhol," remembers Teresa Iarocci Mavica, who helped set it up, and is now the founding director of VAC.

Russian oligarchs soon made their presence felt at art fairs and auction houses. In 2008, Roman Abramovich caused amazement by spending £60m in 24 hours, on a Francis Bacon and a Lucian Freud. That year, he and his wife Dasha Zhukovafounded Garage, an art museum in Gorky Park designed to show off their private collection. Initially dismissed as a vanity project, long on bling but short on intellectual heft, Garage has recently taken on museum status and with it a new direction. It is about to stage a triennial of Russian contemporary art, and has acquired an extensive archive of Russian artistic history from 1950 until now.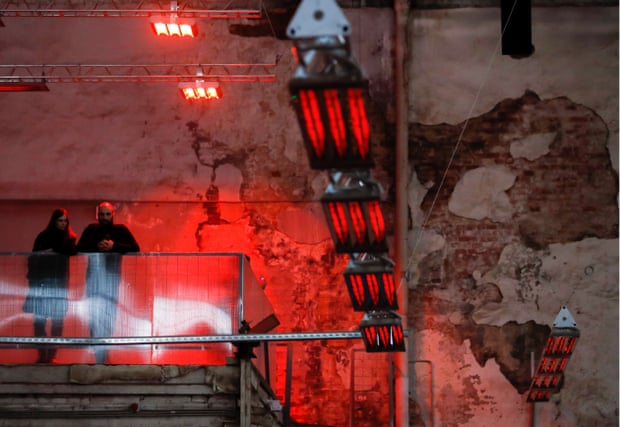 It's catching up with VAC, which was set up in 2009 to help Russian artists bring their work to the world. Mikhelson had developed a small art collection; he enlisted Mavica, who is Italian, to advise him on future purchases. She told him that the great Russian collectors of the past, such as Pavel Tretyakov and Sergei Shchukin, didn't buy the kind of old masters he was spending his money on, but on the artists of their time. "At the end of last year a very rich guy opened a museum of Russian impressionism here, spending a fortune," Mavica snorts, referring to another billionaire businessman, Boris Mints. "For what? If you don't want to work with what you have today, you're not interested in the future."

Mavica and Mikhelson struck a deal; he would set up an artistic foundation, and she would advise him on building his collection (which now includes work by Gerhard Richter, Cindy Sherman and younger artists like Chiara Fumai). Mikhelson's ultimate hope is that Victoria will end up running VAC. According to Mavica, father and daughter are far more low-key than some of their peers. "He's not a glamour person, he's not the guy who will come to Venice with his 150-metre yacht," she says (as Abramovich did in 2011, notoriously blocking the view of St Mark's Square). "Victoria is extremely discreet, she's a girl who is studying. For her, it's extremely difficult to be the daughter of the rich guy and she wants to break this stereotype."
Which brings us to their Moscow project, GES-2. Formerly a power station built in 1907 and decommissioned in 2015, it will be turned into VAC's headquarters; a free art museum with exhibition, education and performance spaces, and a piazza intended to open it up to the rest of the city and connect to its other arts institutions. It's an entirely philanthropic venture, Mikhelson's legacy to Moscow. "At the beginning of this project I told Leonid: 'Maybe we can have a small hotel somewhere to make some money,' but he told me that if you're doing something you have to do it well," says Mavica.