Esports Arena has announced their new "Esports Music Experience"
Esports Arena, known to host the largest Super Smash Brothers competition called "Civil War" has announced their new endeavor into the world of Esports and electronic music.
"Esports Music Experience" known as EMX, is a combination of the growing world of esports – better known as competitive video game playing – and the thriving world of electronic music!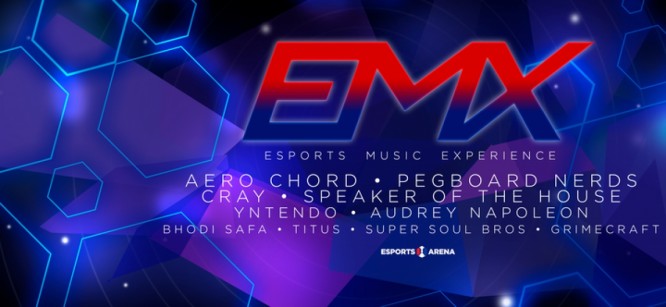 EMX takes place March 24th-26th at Esport Arena in Santa Ana, California, while the music experience recruits the likes of Pegboard Nerds, Aero Chord, Speaker Of The House and more!
COO and co-founder of Esports Arena, Tyler Endres says that their intention is different:
"We're not forcing a DJ in between games, We've seen this fail everywhere. We're building relevant music programming that esports followers and fans of these artists can simply enjoy after the competition throughout the weekend."
EMX includes music industry veterans such as William Morris who has over 10 years of experience working with high-profile labels like Dim Mak, Dirtybird and is the co-founder of online music publication Data Transmission. In regard to the new esports music experience, Morris said that the goal is exposure for both fans and artists:
"We're introducing new and established artists to the exploding esports audience and providing an unbelievable event experience to the existing esports follower."
Competitors will be fighting for a chance at $30,000 and much deserved bragging rights, it's exciting to see how this event will pan out, and how this event will change the way exports and electronic music is viewed together.


In any case, EMX will a example of how esports is a industry that continues to level up.
Attendees can grab passes to the music portion to catch all the action live at Civil War next weekend!