We've Got Your Prescription for BASS at Miami Music Week!
In the world of constantly evolving sub genres of electronic music, bass music has continued to maintain a popular edge in recent years. However, despite its prolonged popularity it's arguably important now more than ever for successful artists in this field find ways to stand out from the pack. Miami Music Week presents the perfect opportunity for veteran and emerging artists to highlight their successes and why they're deserving of the spotlight. For those seeking some guidance, here's a selection of showcase events for the upcoming week that are sure to satisfy your inner basshead.
Deadbeats Goes Off the Deep End (3/23)
Tickets
With literally hundreds of different events happening throughout the week, eventually lineups seem to blend together indistinguishably. This is one rare exception that sold me at first sight. Even outside the stellar headlining talent in Zeds Dead and Jauz, the crazy B2B action that follows on this lineup has my mind spinning already. Even the very thought of missing this one induces serious FOMO, check it out below.
Gud Vibrations (3/23)
Arguably there are no two names carrying more hype in the world of bass music at the moment than Nghtmre & Slander. These two acts have released massive collaborations and are tearing it up on tour across the country. Now they're going back to back once again in Miami with some help from their friends. The support on this lineup sports incredible depth especially when it comes to trap. All of these artists have demonstrated serious growth in the last year, and seeing their paths converge in the scope of this one lineup will truly be a sight to behold.
OWSLA Pop Up Show (3/24)
As per usual no one rolls deeper than the OWSLA crew. Consistently boasting some of the most notable names in bass music, OWSLA still hasn't missed a beat when it comes to curating top notch talent. With notable appearances from Justin Martin and Chris Lake, in addition to newcomer Joyryde who joins the party following his smashing debut release on the label last month. With the combination of great live music, food, and merch, what more could you ask for?
Splash Miami Pool Party (3/24)
The unexpected B2B of A-Track and Mija on this bill is definitely the attention-grabber, but the undercard on this lineup featuring TOKiMONSTA and Sonny Fodera shouldn't be overlooked.
World of Drum & Bass (3/23)
For the loyal, yet too often forgotten fans of drum & bass music, this one's for you. Featuring DJ SS, Bladerunner, Brookes Brothers, and more, a deep and diversified group of d&b artists will be representing this high energy subgenre as part of the international Formation 200 tour.

Something Wrong Here (3/25)
Two breakout artists, Rezz & K?D made an undeniable impact in the last year from the fringes of bass music. All the more fitting that their showcase brings together similar groundbreaking talent from the Mau5trap world and beyond. Fans looking for something out of left field should definitely investigate this showcase, "Something Wrong Here."
Adventure Club & Friends (3/25)
Adventure Club caught the world's attention at the dawn of the dance music boom in the US and haven't slowed since. Riding higher than ever off their late 2016 album Red // Blue, there's no better time to become an Adventure Club fan if you're not already familiar. They'll be sharing the stage with 3lau, who's also released some of his most substantive music in recent months. A slew of pop focused producers and songwriters are joining them to start the night off right including Loud Luxury, Prince Fox, and more.
OWSLA ULTRA (3/25)
Those heading to Ultra will have the chance to catch the Owsla All Stars in action with a UMF Radio Stage takeover from noon to midnight during the climax of Ultra Music Festival. Catch performances from Valentino Khan, Joyryde, Chris Lake & more for what is sure to be a packed out party!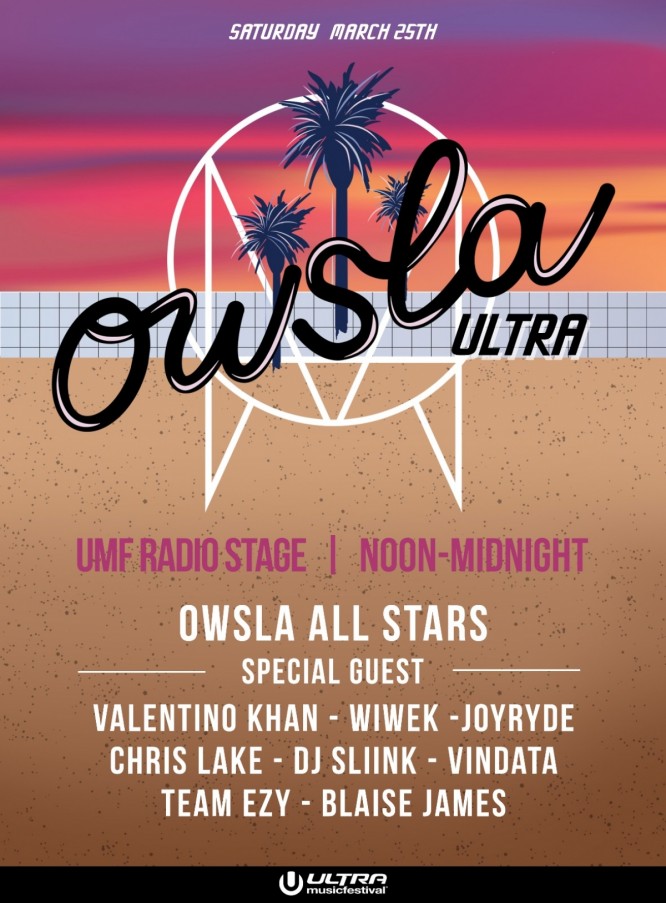 Monstercat Uncaged (3/26)
The Monstercat label team is consistently among the most reliably fresh curators in up and coming electronic music. Naturally, their showcase brings top notch talent hailing from a diversified pool of subgenres including the likes of San Holo, Dirtyphonics, Unlike Pluto, and more! With a host of artists, veterans and newcomers alike, are sure to take you on a fulfilling musical journey to close out the week.