Yellow Claw Releases new Track "Light Years" [LISTEN]
After the success of their first release "Shot Gun," Rochelle and Yellow Claw are at it again with their newest release "Light Years."
This track was released under Mad Decent Records, and fans seem pretty excited to see these two talents joining forces again. Rochelle's strong vocals flow perfectly into a trap drop filled with bass and synths to keep the beat going. Fans have been pretty skeptical of the direction that Yellow Claw is taking their music lately, but with this release we know that they are sticking to their party trap roots for the time being. Comments on this track were filled with YouTube users rejoicing that "Old Yellow Claw is back!".
This trio's past few releases did not include their infamous "Yellow Motherf*cking Claw" voice over into the beat, which can be found in almost every one of their songs. This added to the confusion from fans of what Yellow Claw was trying to do with their upcoming music. But, seconds into the drop of "Light Years" we hear a deep voice with our favorite words from these guys. All you Yellow Claw fans out there, it's back, at least for now.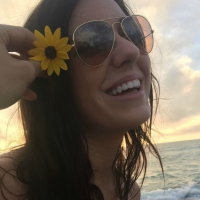 Rachel Woods
My hobbies include long walks to the main stage, pretending I know how to shuffle, and searching the Internet for sick new drops.