Get Ready, New Music From Bear Grillz Incoming!
There are many questions surrounding the enigmatic Firepower Records artist Bear Grillz.
Is he really a bear? Is it hard to produce without opposable thumbs? And do bears even like dubstep?
These are questions we may never receive answers to, but we now at least know when we'll be receiving new music from every basshead's favorite Grizzly bear.
Bear Grillz recently took to Twitter to announce that his new EP will be self released effort coming out April 7th. The new EP will feature 5 songs following a similar trend of his past releases, whether the EP will feature all new releases is unknown at this time. Prior to the announcement Bear Grillz' most recent release "The Game," a collab with Figure, was released in February.
The announcement comes just weeks after Bear Grillz kicked off his first major headlining endeavor "The Void Tour" which began in Santa Ana on March 2nd and is currently making it's way across North America with support from Terravita, Midnight Tyrannosaurus, P0gman, and Wooli. The tour features an insane new stage production and "Earth crushing bass" by PK Sound. Much like Excision and Datsik with "The Paradox" and "The Shogun" respectively, "The Void" now gives Bear Grillz his own signature stage production capable of truly showcasing the intensity his live performances. which began in Santa Ana on March 2nd and is currently making it's way across North America with support from
Catch Bear Grillz on tour dates to experience "The Void" for yourself, and watch out for the release of his new EP out on April 7th.
Upcoming Tour Dates:
Tuesday, March 28 – Higher Ground South, Burlington, VT
Thursday, March 30 – The Intersection, Grand Rapids, MI
Friday, March 31 – Concord Music Hall, Chicago, IL
Saturday, April 01 – 2720 Cherokee, St Louis, MO
Tuesday, April 04 – The Canopy Club, Urbana, IL
Wednesday, April 05 – Skullys, Columbus, OH
Thursday, April 06 – Rex Theater, Pittsburgh, PA
Friday, April 07 – Webster Hall, New York, NY
Saturday, April 08 – Skyway Theatre, Minneapolis, MN
Wednesday, April 12 – ACM Performance LAB, Oklahoma City, OK
Thursday, April 13 – Granada, Lawrence, KS
Friday, April 14 – Ogden Theatre, Denver, CO
Saturday, April 15 – Ravealation, Las Vegas, NV
Thursday, April 20 – Sky SLC, Salt Lake City, UT
Saturday, April 22 – Red Room, Vancouver, Canada
Thursday, April 27 – SWAXX, Spokane, WA
Friday, April 28 – Roseland Theatre, Portland, OR
Saturday, April 29 – Revolution Concert House, Garden City, ID
Cover photo courtesy of Jacob Tyler Dunn and Relentless Beats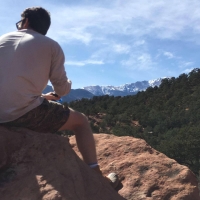 Graeson Welsh
Baltimore club made me but Swedish house raised me.