Frank Walker Drops Fire With Debut EP '24'
Frank Walker may not be on your radar just yet, but if you were in Miami this past weekend you may have caught the rising up-and-comer play a masterful set at none other than — the Ultra Mainstage.
Yes, you heard me right. Ultra. Mainstage.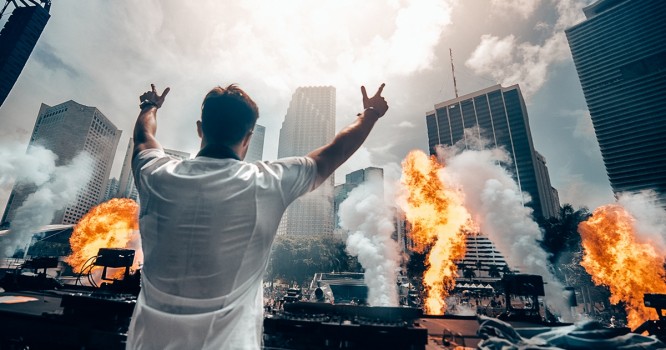 An impressive feat for any artist, let alone one who only released his first EP in 2017. Being billed for center stage at festivals across North America and Europe is no easy task. But, what is it that makes Frank so unprecedented?
Well, I can tell you right now that it boils down to one thing. His music.
I recently had the chance to listen to Frank Walker's official debut EP, 24, and right off the bat I was immediately hooked.
Track #1 — "Angel Falls" featuring Canadian singer song-writer Sterling Fox, commands your attention by bringing you in close for an intimate and sultry intro. With the dramatic build-up, one can anticipate that something good is coming. Little did I know that it would be this good.
Then came the drop, which was powerful and catchy af. I still have it stuck in my head today. An epic blend of future bass and house, with just a tinge of trap filth to make you want to head-bang. But, not enough to take away from the beautiful and soulful melody.
Next comes the most popular track off the 4 song EP, titled "Less Lonely". It gets you feeling some type of way not just from the easily relatable lyrics, but also from the contrasting combination of soft vocals and electronic production that aims to bring you waves of emotions ranging from calm somber moods to energetic inspiration. Much like the life-cycle of love.
"Love Me Close" switches the focus to a more acoustical production that incorporates guitar, strings, and other instruments that really captures the tropical essence. When I blasted the groovy tune in my car, it undoubtedly gave me the feeling that I was driving down the Cali coastline to a beach with that special someone. Unfortunately, I live in Canada, but the feeling was all the same.
To close it out, Frank teamed up with singer Andrew Jackson for the climactic finale, "Young". A last hurrah to remind us that our youth will only last so long, so let's enjoy it while we have it. Andrew's voice pairs perfectly with the instrumentally diverse production and those oh-so-sweet chants really transform the song into something that resembles radio hits from the alternative rock/pop world.
Having acquired the support of Golden Hare Group (a management company for acts such as Kygo, among others), Frank Walker is poised to become a new icon in the electronic music scene. It will be fun to watch his career grow, but more importantly, I cannot wait to listen to more creative and passionate projects from this promising young producer.