Glastonbury Festival Announces First Wave Lineup Filled with Huge Artists
Glastonbury Festival, the pinnacle of all music festivals, has just teased the lineup revealing a bunch of the headlining acts for 2017.
Prior to today only 4 acts had been announced, Radiohead, Foo Fighters, Ed Sheeran and Kris Kristofferson. But, now we know over 80 more names that will be headed to the UK this June. This list includes some of the biggest names in the music industry including Katy Perry, Lorde, Major Lazer, Tove Lo, and The XX. This lineup announcement is only the first of many, meaning that there are many huge names waiting to announce their journey into this 5-day festival.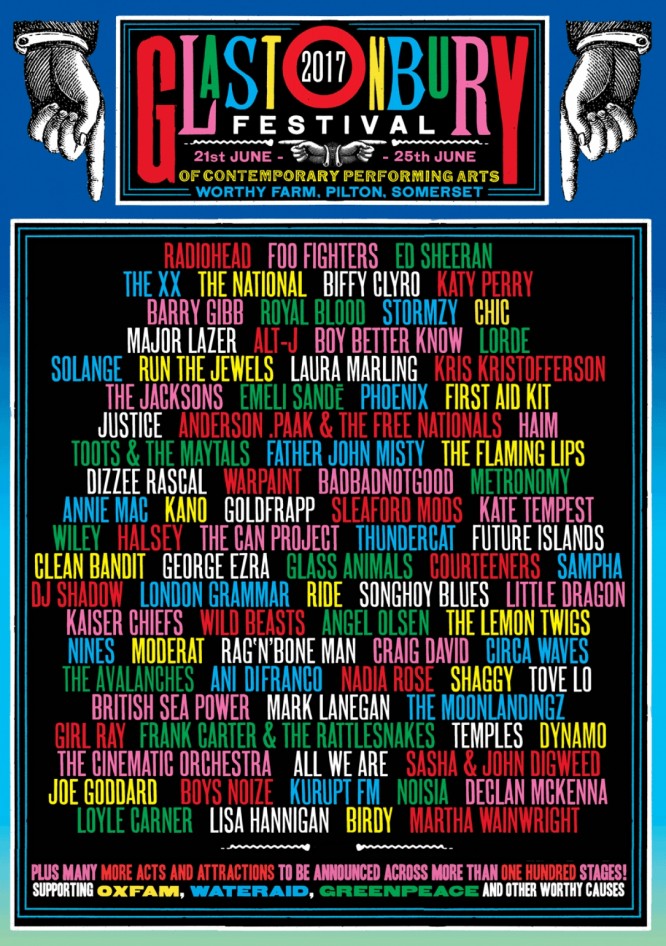 Glastonbury Festival is the largest greenfield music and preforming arts festival in the entire world, and has been a blueprint for all festivals to come after it. People travel from all over the world, bringing their different customs, cultures, and styles, but all having one thing in common, and that's a love for music. This unique mixed crowd creates a vibe that is unachievable at any other festival. Unfortunately, this event has already sold out for this upcoming year. Their website states:
"We're sorry to all of those who missed out , but there will be a resale of any returned tickets in the spring, and registration will open again in the next few days ."


So, keep checking the website if you're hoping to make the trek to the pinnacle festival of all festivals. Or save those pennies and prepare for the journey of a life time for next year's event.
For more information, check out the Glastonbury Festival website here.
Photo courtesy of Croco Magazine.