The Ark Prepares For a Voyage Across the Mediterranean with a 90 Artist Lineup!
With 90 different artists, The Ark is taking it's maiden voyage across the Mediterranean for an unmatched festival cruise experience!
With a diverse lineup featuring everyone from Boys Noize to Martin Solveig to Sven Väth, The Ark is bringing 4000 guests on board for an intimate gathering with some of the world's most exclusive DJs.
Embarking on August 31st through September 3rd, The Ark will travel from Barcelona to Ibiza and Marseille before eventually docking again in Barcelona. Featuring yoga classes, basketball tournaments, rock climbing, and pool parties, there's plenty to entertain between sets from some of the industry's most iconic DJs.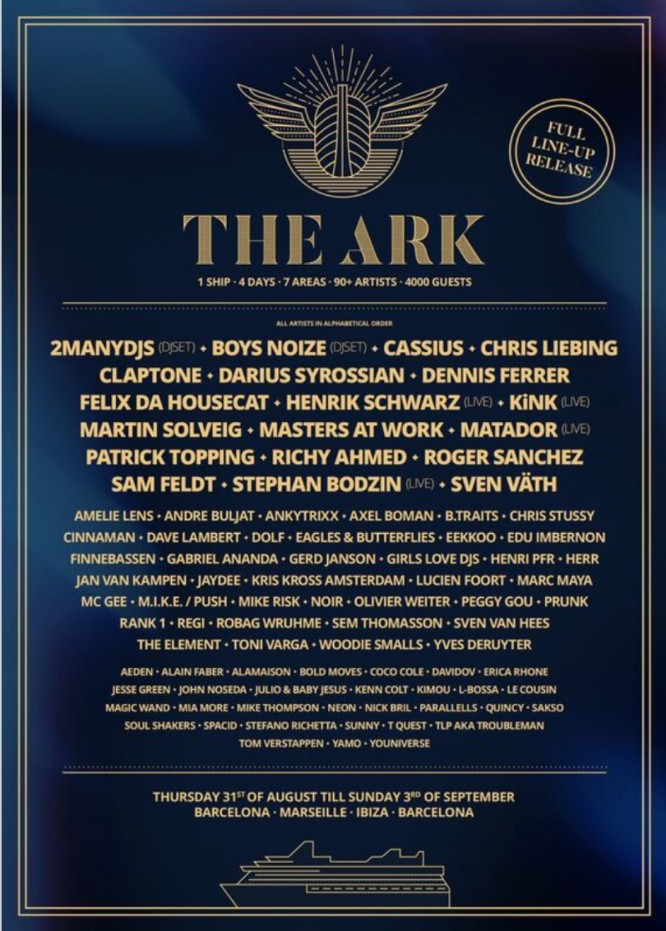 Named after the biblical Noah's Ark, The Ark embodies 10 commandments to keep the party atmosphere positive and pumping throughout the 4-day, 3 night journey.
10 Commandments
1. You shall see everyone as equals and respect each other
2. You shall look after each other and help fellow passengers, when needed
3. You shall respect the ship and crew
4. You shall ask help from the crew whenever required
5. You shall party with passion and love
6. You shall be the most extraordinary version of yourself.
7. You shall bring something to co-create
8. You shall party responsibly
9. You shall rest and relax as long as your body needs
10. You shall use the ship and all its facilities
Regardless of your creed, those are commandments we can all stand by!
Head to theark.cruises to grab your tickets!