Major Canadian Music Festival Rebrands for a Mature Audience
One of the biggest reoccurring festivals in Canada has been Digital Dreams in Toronto.
The festival announced that for their 6th year they will be re-branding to Dreams Festival and aiming for a more mature sound. Previously, Digital Dreams has welcomed audiences 16+, but now the festival has decided to focus on an older audience as a new 19+ event. The festival needed a big change after some unfortunate shut downs to to weather conditions in previous years. The brand new Dreams Festival is a fresh start and they wasted no time dropping an incredible line up featuring Above & Beyond, Steve Angello, DJ Hanzel (the Dillon Francis Deep House alter ego) and many more. They even have a secret headliner that's yet to be revealed, but in the meantime check out the full line up announcement below.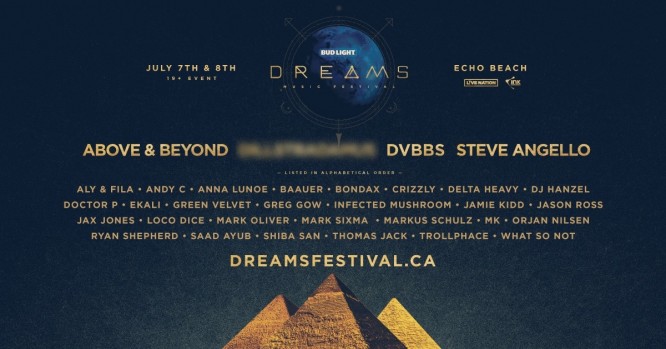 The Dreams Music Festival will take place July 7th and 8th, 2017. The weekend will feature 3 unique stages, vendors and more. It's great to see a festival mature with it's audience, but still keep true to it's roots. The festival not only brought back fan favorite artists from the past 5 years such as Green Velvet or Andy C, but they also brought back a greatly missed stage by the waterfront. The VIP pass even let's attendee's go in and out of the festival until 10pm, something that we wish every festival would allow.
The competition for Canadian music festivals is heavy, so those who don't evolve and adapt; will disappear. Doing 6 years in Toronto is no easy task and with some of these much needed changes, Dreams Festival is on the track to stay around a long time. Check out the official trailer for Dreams Festival below and for more information on the event head to DreamsFestival.ca.