[ICYMI] Jai Wolf Drops Breathtaking New Single "Starlight"
Hot off the heels of his impressive debut EP Kindred Spirits, and a headlining American tour of the same name, Jai Wolf just released a brand new track.
"Starlight," featuring sultry vocals from Mr Gabriel, is an atmospheric dreamlike song that continues to strengthen and cement Jai Wolf's distinct emotional sound. It's filled with true heart and depth; Jai Wolf even mentioned that the song was meant for "endless summer nights with your best friends." This track marks the first time the NYC based producer has self-written lyrics for his music.
Starlight begins with a slow-building piano melody that creates a lush ambient soundscape. The drop is warm, loud and charismatic - marked by beautiful vocal chops and indie instrumentation - without packing too many elements into it. Blurring genres with smooth 80's synths, gritty hip-hop drums, and a mid-tempo beat, Jai Wolf has created a beautiful track with intense emotional resonance. True to the title, this song symbolizes the intimate and surreal feeling of lying in the grass on a summer night, gazing at the expansive sky illuminated by bright sparkly stars.
Take a listen and vibe out to the song below:

To celebrate the new single, Jai Wolf is embarking on the Desert Moon Tour. On top of that, in partnership with U-Turn Audio, DoTheBay and DoLA, he is arranging a giveaway to win a turntable, tour tickets, vinyl, merch and more.
You can enter through the link, but hurry! The contest ends soon!
Catch Jai Wolf on tour at the following shows:
Thu. April 13 – Santa Barbara, CA @ EOS Lounge
Sun. April 16 – Indio, CA @ Coachella Valley Music And Arts Festival (SOLD OUT)
Tue. April 18 – Santa Cruz, CA @ The Catalyst
Wed. April 19 – Sacramento, CA @ Ace Of Spades
Thu. April 20 – Santa Cruz, CA @ The Catalyst (SOLD OUT)
Fri. April 21 – Pomona, CA @ The Glass House (SOLD OUT)
Sun. April 23 – Indio, CA @ Coachella Valley Music And Arts Festival (SOLD OUT)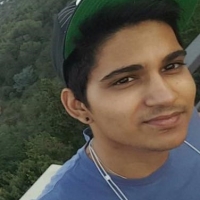 Saad Masood
You can find me headbanging at the bass stage. Or literally anywhere else the wubs are.