Secret Cinema Celebrates 25 Years of Innovation With New Tour [INTERVIEW]
For 25 years, Dutch-native Jeroen Verheij, better known as Secret Cinema, has been making his mark on the global techno scene.
As is the case with many bedroom producers, Secret Cinema got his start in the early 90's at his parents house in Rotterdam, Netherlands. After early exposure to acid house and techno, Jeroen began to dabble in his own production magic which paid off tremendously with his early dance floor hits "Point Blank - Meng's Theme" and "Timeless Altitude" which enabled the young producer to develop a career off of successful record sales. Now, at a time when the bulk of artist's income is made on the road, Secret Cinema had the opportunity to invest in other endeavors and scout new talent as the founder of Gem Records, which has helped to develop the careers of other dance floor mainstay Enrico Sangiuliano and provide opportunity for emerging talent Reinier Zonneveld.
Now celebrating his 25th year as one of the Netherlands premier figures in techno, Secret Cinema has recently released Secret Cinema - Silver, a special boxset containing the artist's entire discography. In addition, a 25 Years of Secret Cinema documentary has been released, giving an insider look at the journey of one electronic musician decades before the pyrotechnics and main stage massives made pop stars out of producers.
Today, Secret Cinema embarks on his Silver 25 Year Anniversary North America Tour hitting 5 of the continent's major markets for techno, kicking off in Montreal at the prolific Stereo Nightclub.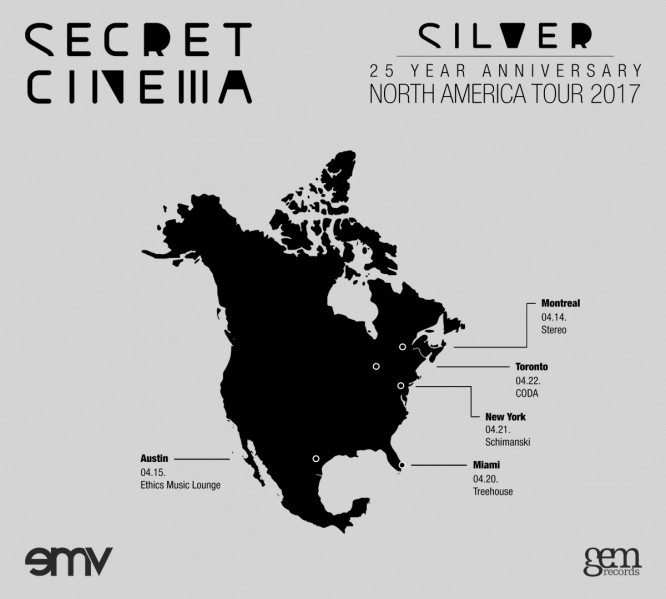 We had a chance to chat with Secret Cinema to talk about the early days of sneaking out of his parents house to attend underground raves, his favorite festival performances, and what keeps him driven to make music all these years later.
EDM.com: How did this whole musical journey start for you?

Secret Cinema: On the dance floor! I was 16 when my older friends took me out from the small City of Den Briel, where I lived to Rotterdam. They all had cars by then, so I would tell my parents that I was home and then sneak out and party all night long! It was not full on house music back then, so there were blocks of acid house and techno. It hit me straight away when I first went out, with my hands in the air and my eyes closed, and I felt this overwhelming happiness. I knew that I wanted to make music and be part of it in every way. I soon after bought an Amiga 500 computer and was able to then produce my own record on it
How old were you when you first started attending shows and who were your favorite artists growing up?

I grew up listening to Frank Zappa, Slayer and pirate radio shows with electronic and weird music. I used to go to concerts of Pink Floyd and Fela Kuti, but later that became more electronic focused. My biggest influence in electronic music was initially with rap, like Scoolly-D and later on with Meat Beat Manifesto. I was so intrigued by the sounds they made, I had to investigate. Not just guitars and drums, but out of this world sounds with drum machines and samples. I was right in it all, from the beginning, so Derrick May and Dimitri a DJ from Amsterdam influenced me the most and also Michel de Hey with whom I worked together a lot releasing Secret Cinema tracks and so on…
Was there one track you heard early on that was really groundbreaking to your own production?

This has to be 69 - "Rushed." When I heard DJ Dimitri from Amsterdam play this for the first time, it blew me away completely! That screeching noise loop influenced me to make "Timeless Altitude." I just had a listen to 'Rushed' again actually the other day and still, it's such a classic! It can be played now in a set and people love it still, in fact I think I am going to drop it in a few of the gigs during my North American tour! Not many tracks can do that these days.
Who gave you the exposure you needed to make it to where you are today?

I closely worked together with Michel de Hey in the early days. For sure, releasing on his label and playing my live sets in the basement in Nighttown was a breakthrough. Later I re-invented myself when I had a manager who knew to connect me with the new school, it didn't end well with him, but in the beginning it worked really well.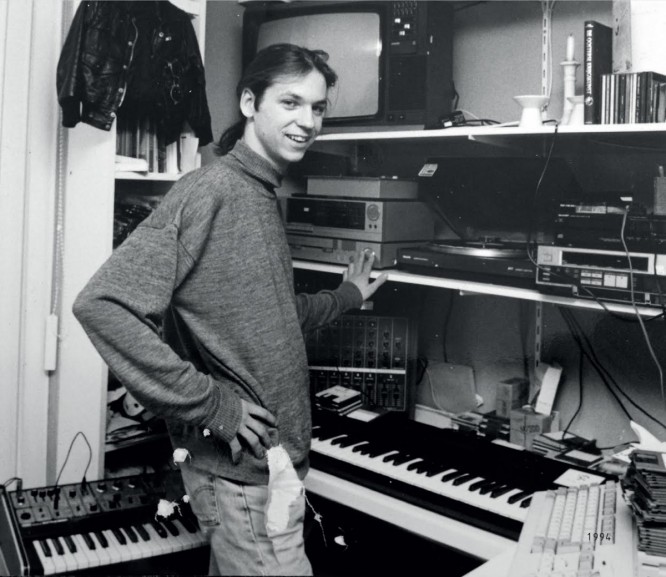 A young Secret Cinema at bedroom-studio in Amsterdam in the 90s
What was the one club/festival/ that was a milestone for you? What made that event so special?

For live sets I have 2 actually. Playing at Wire Festival in Japan for the first time was an insane adventure for me, as I'd always wanted to go to Japan and the fact that it was my music that brought me to the country, made it more special. There is a real scene happening out there in the last few years, which is really great. Second, closing the main stage of Awakenings with my live-set in 2005 was a sure milestone. Only Richie Hawtin, Dave Clarke and big foreign techno artists closed that stage before me. For a Dutch guy and his live-set to close that stage was a true honor. Later when I decided to DJ, I had one big one performance in 2009 called "Welcome to the Future." I started playing, the tent was fully packed and from the moment I started till the end of the set it was 6,000 hands in the air! Everyone else was playing so minimal, so I decided right there to take it back to techno and it all fell into place.
Things change, trends change and artists adapt, this is really important to stay current, but it helps you to discover new ways to produce and challenge yourself.
You've been going for twenty-five years strong now, what keeps you going?

You have to love what you do, and I do! I have been making music for over 25 years, and I have been fortunate enough to be able to make it into a full time career. It's not easy, and you really do have to have a lot of passion and perseverance. The industry is very much like a big family, it's nice to be able to travel the world and see old faces as well as meet new people all the time. I've also been able to watch the scene change and evolve over many years, both in the Netherlands and elsewhere. Things change, trends change and artists adapt, this is really important to stay current, but it helps you to discover new ways to produce and challenge yourself. And nowadays I also focus on finding new talent and that keeps me fresh and alert!
In the Secret Cinema Silver package, there are tons of your own tracks that have been extremely influential to the techno scene that we know and love today. What are your favorite songs featured in the Silver package that you would want potential first-time listeners to check out?

Definitely Point Blank – "Meng's Theme". I spoke to Adam Beyer at a dinner once and he told me that the track had been a really big influence on his career. After listening to it in the 90's it helped to guide him into knowing what type of genre he wanted to produce himself. "Timeless Altitude" is another one, I called it 'Timeless' and to this day, I think it still is! Another one is "Sundance." More of a left field breakbeat track that I dedicated to my father who passed away just months before I released my first record.
As part of the package you also released a documentary, how was it looking back on the last 25 years through film?

It was nice to see what other people think of you and what you have done for the last 25 years! Also to see my mom talking about it all from her perspective, I think was really interesting for many. We've been through a lot, but I had a mission, and she has supported throughout, not meaning that there wasn't at least a little bit of hesitation at times! Seeing how proud she is right now changes the view of it all. It's really nice to reflect on that.
I spoke to Adam Beyer at a dinner once and he told me that [Meng's Theme] had been a really big influence on his career. After listening to it in the 90's it helped to guide him into knowing what type of genre he wanted to produce himself.
Are there any up and coming artists from your label Gem Records that we should be on the lookout for?

We just signed Reinier Zonneveld to the agency. I had my eye on him for a while and when we decided to make music together I found out he was a classic piano playing genius who played improvisation concerts for thousands of people when he was 12 years old! Its genuinely so cool to see that talent through the techno side of electronic dance music. Enrico Sangiuliano released on the label and is also with our agency, but I am more than sure you will have heard of his name by now!! Pim Van Horssen known under the alias "SQL" just finished his new album and I see him as a completely new artist now. He really grew up, and I can't wait to let the world listen to his work. He has produced a real album for listening, with a build-up to dance, but in a very modest way. For me it is everything a dance album should be.