Gorillaz Announce Huge "Humanz" Tour Across North America
During the last months, the entire music world seems to be spinning around Gorillaz's long anticipated return and their forthcoming album Humanz, out April 28th.
The virtual band's creators Damon Albarn, Jamie Hewlett and their team have for sure put a ton of work into the launch of the new Gorillaz era, as they continuously keep dropping bombs about new things that are going to be accompanying the album's release.
First, they suddenly released four new songs off "Humans," featuring Vince Staples and D.R.A.M. among others, and then "Let Me Out" feat. Mavis Staples and Pusha T. They also announced a new Gorillaz app that will enable fans to simultaneously listen to the new album before the official release, and their own Demon Dayz Festival in Kent, England, on June 10.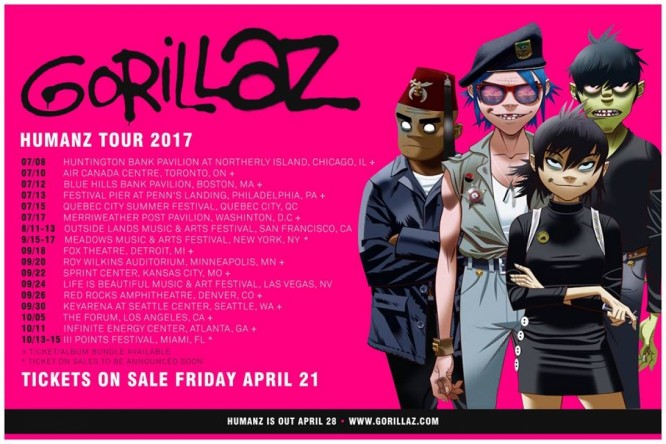 The thing, however, that is going to excite fans the most is their latest "Humanz" tour announcement. Starting July 8th, the band is going to be hitting 17 cities as well as festivals like Life is Beautiful in Las Vegas and III Points Festival in Miami.
Keep in mind that the ticket sale starts Friday, April the 21st, and prepare yourselves for the Humanz album release April 28!