Hard Music is Taking Over - Prepare for WASTELAND with LNY TNZ, Angerfist & DJ Stephanie
2017 has been a massive year for the American Hard Music scene. Large shows are taking place across the North American continent, and they're getting bigger and bigger, with a broader selection of Hard Music artists and styles. When Insomniac Events announced their expansion of the festival "Wasteland", Hard Music fans around the country rejoiced. This year's lineup spans a wide variety of Hard Music genres, with a focus on Hardstyle & Hardcore, and, of course, featuring the top brass of the Hard Music world. 2017's edition of Wasteland will be the biggest standalone Hard Music event in North America to date.
Wasteland this year will feature a strong American artist presence. The American scene has seen a fast growth in Hard Music artists in recent years, and thus, the top Hard Music acts from around the country will be performing at the event. 2017 has seen a consistent stream of releases from American Hard Music acts, developing the unique Hard Music sound of the North American content, and taking the music to new frontiers.
Looking back at the United States' Hard Music scene's growth over the years truly makes you realize how big this movement is becoming here. It was less than a decade ago that seeing oldschool Hardstyle names like Showtek & Headhunterz on lineups was a rarity - now, we have whole festivals dedicated to Hard Music, and we hear mainstage acts on non Hard music festivals regularly supporting Harder Styles tracks.
To prepare you for this years edition, we spoke to three different headliners from the party - LNY TNZ, Angerfist, & DJ Stephanie
LNY TNZ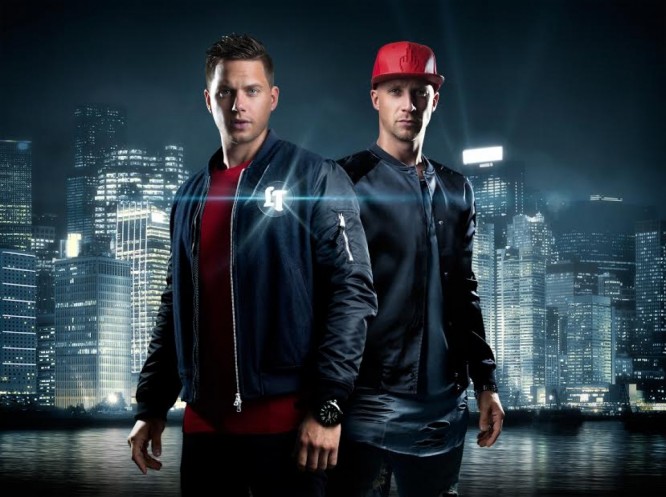 Hi guys! Thanks for taking the time to talk with us. To kick this off, can you tell us a bit about what separates you from the rest within the Hard Music world?
Of course! The difference is diversity in the live act, and in the music we make. We say "fuck genres" - instead, we take the best parts of all our favorite genres. We take all the right energies, put it into one genre, and that's how we play! All about energy, harder than the rest.

You guys recently wrapped up your 2017 US tour, so you are no strangers to our scene. What makes your guys sound so appropriate for the American crowd?
We always always adapt a little, but we try to show the people one solid flow of styles. People see live our live footage from places like Europe and Mexico, and they wanna wanna see it in the US! We play local favorites mixed with international hits in our unique style.
Tell us about your year so far, and what's coming up!
This year, we're playing both weekends at Tomorrowland! We recently released a single - " Burn It Down," as well as a remix package. Up next is the "Barong EP - Fuck Genres Vol.1 ", and after that, a follow-up single, which will be more festival friendly vs club friendly. The single is a real crossover of styles. The thing for us is big fanbase from festival land - how can we get attention from the bigger market? The answer - a radio track with LNY TNZ identity. If you gonna release a single gonna be more commercial.

What do you think of Hard Music in the states?
It's getting bigger and bigger! We talk to Carnage on Skype regularly, and work with other US artists as well. Recently, he played a Hardstyle set for 45 minutes, and the non-Hardstyle people still loved it. We've been playing in the states since 2014, and it's been growing consistently ever since!

What separates the American Scene from the European scene?
People in the US don't know the subgenres. In Holland, many say we are not Hardstyle, but in the States, we don't run into this. The US crowd is accepting of the combination, and the combination could be huge in the future! Not just the Dutch style, as people say on YouTube. We fill a gap between EDM and Hardstyle, so people can crossover. The mix is nice to listen to and dance to. Hardstyle DJs complement us for supporting their sound and spreading it. The Genre is active, and it's been a good trend for the past two years!
The kick is a critical element of Hard Music - how do you guys work with your kicks?
The kick always depends on the style of track. We never use preset kicks, because it always has to fit the sounds in the drop. The kick has to fit the rest of the track as well, and bring the energy. Always a lot of tweaking when it comes to our kicks! We like to produce our kicks with a lot of lowend/bass, or midrange.

What are the styles of music you combine the most?
Trap, Harder Styles, EDM, Future Bass, and Hip Hop!

Do you have any advice for upcoming producers in the Hard Music world?
Be creative and try to come up with something that fits your style. Don't stick to formulas or sound like someone else because, that's already there. There's always something that is signature in everything. Dare to be creative!

Thanks for the great interview guys! Anything you want to leave our readers with?
We embrace the term called FVCK Genres, and we're gonna host some stages on upcoming festivals, as the FVCK genres movement! Check LNYTNZ.com for more info as it comes in.

Angerfist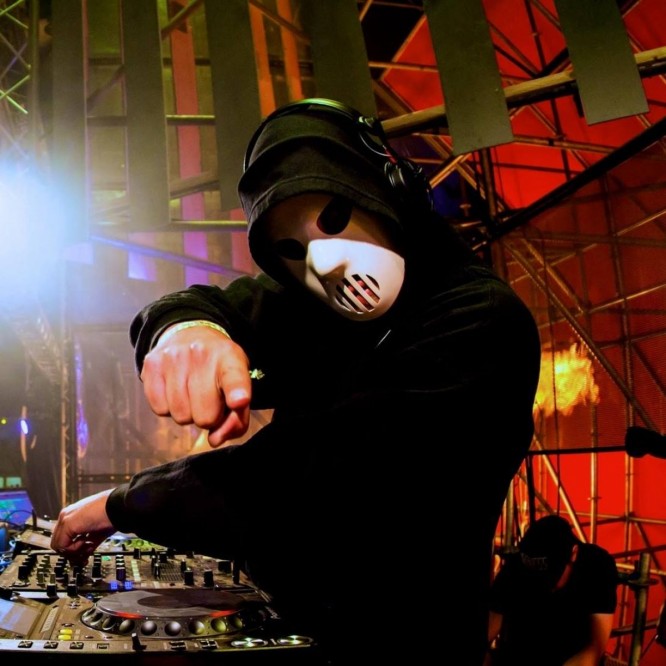 Thank you for your time! To kick this off, let's start with a question that many of us are wondering about. What's the story behind the mask?
Back when I started I was 100% a producer, and not a DJ. I did want to bring the music to clubs and events, but I also wanted to keep a certain anonymity, and at the same time have an aggressive and hard image to go with it. The first priority was a dark vibe, and the mask and hoodie were the perfect way to do this. It looks cool and allows me to stay low key. Now, 17 years later, I love performing just as much as making music, but the mask and hoodie was probably one of the best choices I ever made.

You've been on the front lines of the Hard music scene in North America for many years now. How much has the scene grown since your first tour here? What stands out to you about parties here?
L.A has always had an impressive hardcore scene since I've performed there for the first time. Of course with the Basscon events it has been taken to the next level. The rest of the country has been growing in the past years as well. The cool thing about the USA is the enthusiasm of the crowd. It's unique in it's atmosphere, and the fans really appreciate you being there. It's cool to see how they know almost every tune that you drop.

How would you describe the music you make and perform to someone who has never heard it?
Energetic power music. Uplifting, aggressive and violent at the same time.

How has your style evolved over the past few years?
The essence of the music has stayed the same. Hardcore is my style and I'm not trying to change that, but, of course, the type of sound has changed. The quality of the genre has improved a lot and has become much more intense as well. It's interesting to see the evolution of the genre over the course of the last 2 decades. Trends within the style always change and the subgenres do too. It keeps everything fresh.

Here we are in 2017, but your story starts long before that. Can you tell us about your roots?
I was born In Hengelo, but raised in Denekamp. A very small village of about 15.000 people in the east of The Netherlands, where basically nothing happens except for cows eating grass while the village church bell rings. Of course, living in The Netherlands has influenced me a lot. When I was still young, I remember the first Hardcore CDs coming out, and I was immediately drawn to this powerful music. My friends and I all loved this music, and we would later go to many Hardcore events as well. I started making music when I was 16. Back then I only used pre-programmed loops, and was basically just exploring. Later I made the switch to hardware, plugins and samples, and was able to really create music. After some years, and when I made some tracks that were good enough in my opinion I sent them to Buzz Fuzz. After a while he sent me an email saying that he really liked them, and wanted me to do a release on his BZRK label. I was excited to say the least. He eventually got me in touch with Masters Of Hardcore, where I released my first Angerfist EP on their sublabel Overload. Later I would start releasing on the main Masters Of Hardcore label. That's where it all started, about 17 years ago. Now were are in 2017, 5 artist albums and many EPs later. I never could have dreamed that it would grow to what it is today.

Did you ever see yourself playing massive parties in the United States when you started making music?
Absolutely not. I could not have imagined the countries I would visit and the great events I would perform at.

What do you think the future holds for this music?
Year by year I see it growing. Hardcore is getting more and more worldwide recognition. That makes me happy. Although it is still an underground style of music, it slowly appears more often on mainstream events around the world. It's growing, people are getting more used to hard music I think. It sounds more natural to people once they get more into it. It's a hard generation, and that's the way it should be.

Can you tell us about what it's like for you to be in the studio? What kind of tools do you use? How long does it take you to finish a track?
I use Cubase as my main DAW, with mostly VST plugins. Some of my favorites are Z3ta+ 2, Spire, Omnisphere, Sylenth1, Drumazon, Microtonic and the UAD DSP-Card plugins. The Fabfilter plugins are great too, and for choirs and atmospheres there are countless cool Kontakt banks out there. The only real hardware I use these days is a Virus TI Snow, mainly for those nasty screech sounds. For the rest I have a pair of Focal SM9 monitors, a Lyra 2 soundcard and a Avocet v2 monitor controller. When all goes well, it generally takes me around 2 weeks to finish a track. Although I've had tracks done in a few days in the past as well as a few months. It all depends on the vibe you're in.

What's up next for Angerfist? Do you have some tracks coming out soon, or special projects?
Right now, I'm working on 2 new solo tracks, but first, I'm set to finish a remix for Tha Playah that I've been working on for a long time. Recently I've done a collab with Furyan called "Hoax" for his solo album Trial By Fury. I also have a couple of other remixes scheduled this year. The first upcoming release will be my 2 solo tracks with some cool remixes by Luxxer and Broken Minds.

Do you have any advice for upcoming Hard music artists in the United States? Thanks for talking to us - we really appreciate it. See you at Wasteland!
Be dedicated and try to find your own unique sound. It might sound generic, but that's the best advice right there.

Thanks for talking to us - we really appreciate it. See you at Wasteland!
Thanks for the interview and to all the USA hardheads: Raise Your Fist at Wasteland!

Stephanie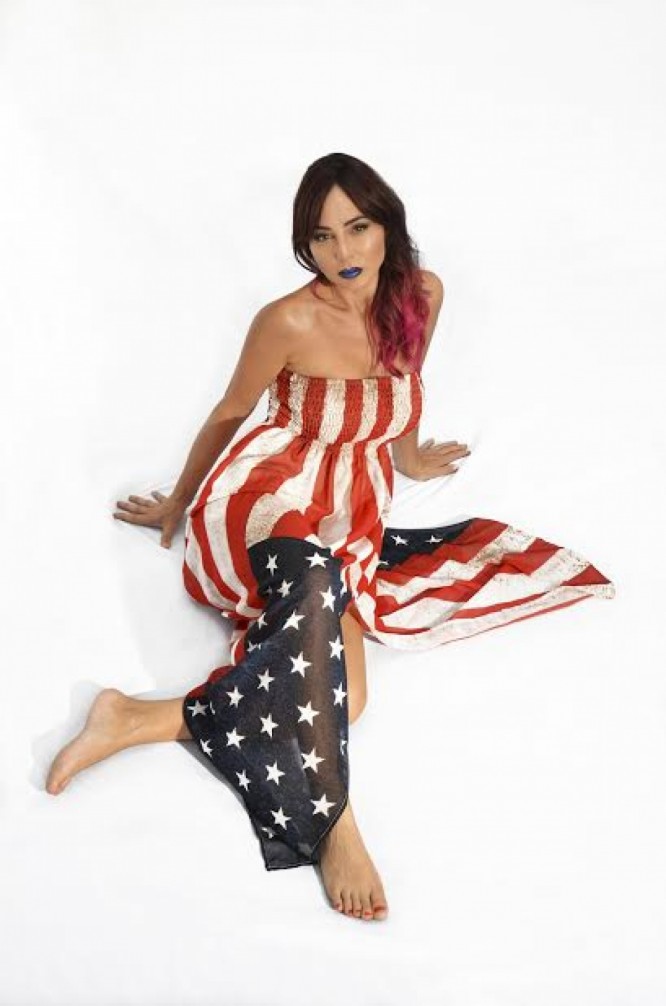 Thanks for talking to us, Stephanie! How's life?
Hiii! First of all - thank you, it's an honor for me. My life at this moment is completely busy! I live for the music, my mind is focused for find new ideas for new tracks. I'm concentrating on my video podcast and new Pink Beats label!

Basscon is coming up here in the next month. What do you have planned for the American crowd?
I'm at work with a track dedicated to my US Hardstyle people! I'm at work on a new EP as well " A tribute for America" in collaboration with Lady Faith!

Tell us about your history playing in the States! How long have you been performing out here?
In August 2015 I got the VISA and for me it was a goal. I'm in love with America and I worked a lot for have it! My first performance was in September at Nocturnal Wonderland and I played b2b with Technoboy. On that night the US crowd really supported me, and for me it was an amazing feeling… after that I've played in other big events like EDC Vegas!

What separates the crowds in the USA from the crowds in Europe?
That's a difficult question! Every crowd in every country is different. The American crowds is really hot, and I love when they give kandies to the artists. ;) They are incredible!

For those who are unfamiliar, could you please describe your sound to us?
My sound is euphoric, like me. ;) I like to make also Hard EDM and reverse bass tracks… at this moment, I also love to play Millenium Hardcore.

Where do you see Hardstyle going in the United States in the coming years?
I hope the Hardstyle scene is growing also in other US States. At the moment I see that the HS scene is concentrated in California. Last year I played in New York and it was also cool, but this scene needs to grow up in other US states! ;)

You recently released your first album, called Pink Beats. Please tell us about this concept!
The release was in February, after one year of hard work. When I started to make the album, I was alone and without a label. I took some Logic lessons, and on free weekends, I took my car and drove for 4 hours to Activator's Studio. He is my maestro! Every track has my ideas, lyrics etc. It was my dream to make an album, and it was my dream to open my label! The Pink Beats Label and album are the result. I'm a woman, and I hate it when people think that all women are talentless. Yes, they're out there, but I'm not one of them. I'm not a genius with the PC, but I have a lot of ideas when it comes to tracks. My album is also a mix of euphoric, Hard EDM, reverse bass and raw. I wanted to make tracks for every country - for example " Disco Bitch" is a track for the US!

What are some of your favorite tracks on the album?
I like every track because each of them has a different story ;) but "Destiny" and "Pink beats " are my favorite!

You made some crazy tracks for the album, like "My Vibrator and Me." Can you tell us a little bit about the idea behind this track?
I'm so crazyyyy I know :D This track is a "funny" track, from an album with many other types of tracks. There are people that understand it was made for laugh, and others criticize it, of course. I expected this, and I'm aware that people talk about this track. Good or bad it's important that they talk!

What's the plan for Stephanie for 2017 and beyond?
I'm working on a video podcast, and I already finished a bootleg of Coldplay's "The Scientist " for the summer festival season! I'm also working on that American EP, and a few other tracks. For the rest, follow me on my social media ;)

Thanks for the interview, Stephanie! See you at the party!
Thank you for the interview, and see you at WASTELAND!