The M Machine Announce Tour In Support of New Album "Glare"
San Francisco powerhouse duo, The M Machine, are back on the road this summer in support of their first full length album Glare released in February on Mat Zo's label Mad Zoo. This 11 city summer tour is a welcome return to the stage for The M Machine after taking time off to work on the album.
Glare, a brand new offering from the synthesizer gods, changes up the traditional dark electro sound The M Machine is known for. Think of "Worlds" by Porter Robinson instead of "Welcome Reality" by Nero for this one From the dreamy vocals on "Voyeur" to the soft funk that is "Honeybucket (Feat. Phantasmosis)," there is something for everyone on this album. One thing is for certain, The M Machine have mastered the synthesizer, the keys on this album are incredible and in turn makes "Glare" a must listen

Unlike the Metropolis EPs, The M Machine claim there is no strict story behind this album. In their recent Ask Me Anything thread on Reddit they discuss the Glare's narrative:
"...not a literal story. But narrative yes. We imagined different people and cultures having drastically different responses to the same stimulus. We've used a comet as an example -- Throughout time people have seen them as good omens while others mark doomsday. Glare is a light in the sky, and you are the peoples."
Glare departs from the dark electro sound that made up their previous releases and provides a more ethereal sound.
Ben Swardlick and Eric Luttrell otherwise known as The M Machine formed in 2011 alongside former member Andy Conen. Conen departed the band in 2015 to pursue other interests outside music. Despite Conen's departure Swardlick and Luttrell explain he was involved in the early stages of Glare, specifically "Some Animal" and "Another Parachute Ending." They reached critical acclaim with the Metropolis I & II EPs and the Just Like EP released on OWSLA. They have played alongside some some superstar DJs and producers including Skrillex, Porter Robinson, The Glitch Mob, Madeon, and Alvin Risk.
Check out the tour dates below and listen to Glare courtesy of The M Machine and let us know what you think!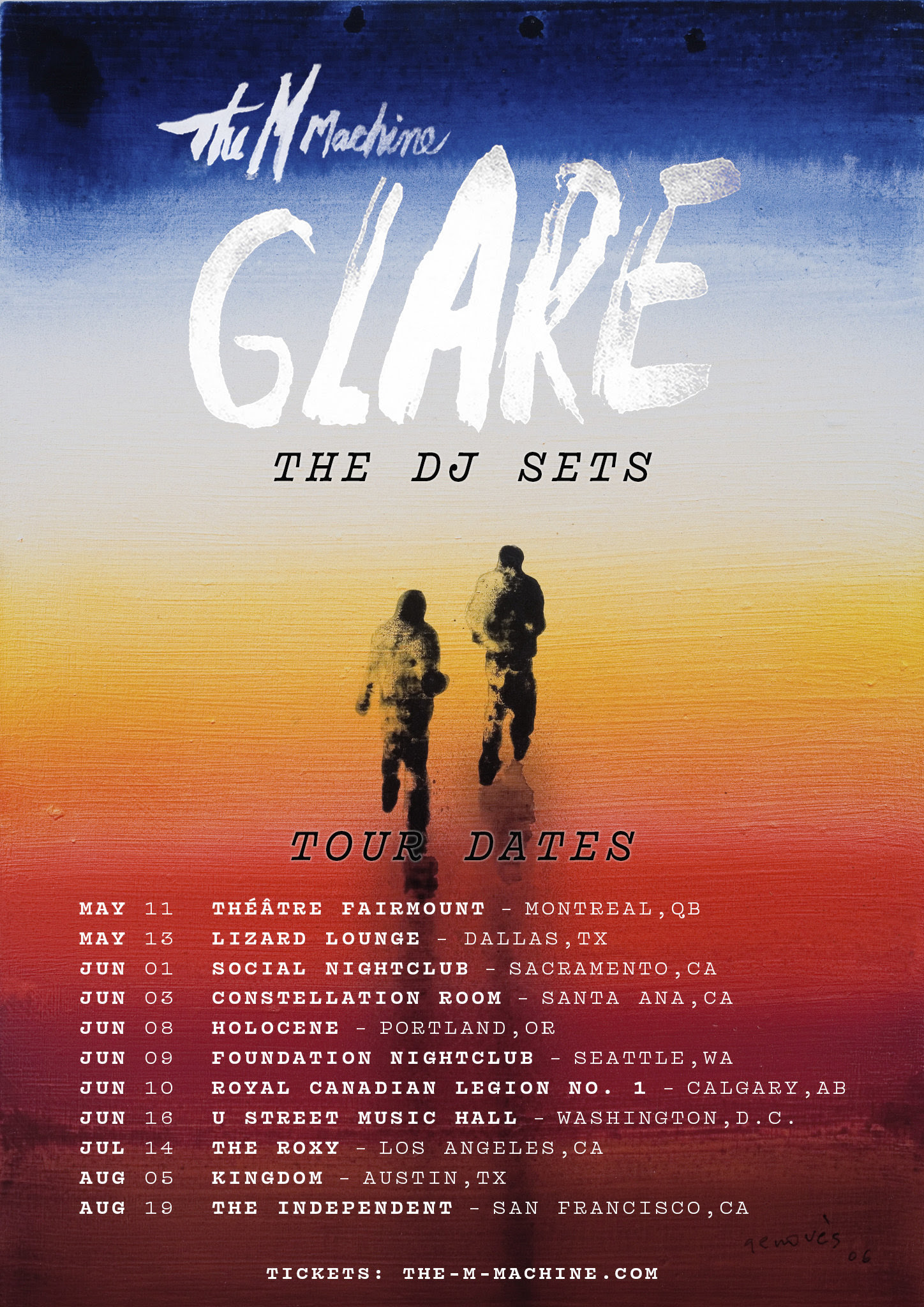 Cover photo courtesy of Donslens