Ultra Brasil Reveals Phase 1 Headliners That Are Equal Parts Underground & EDM
Ultra Brasil is only a few months away, and the distinctive lineup for the Rio de Janeiro takeover has been unveiled.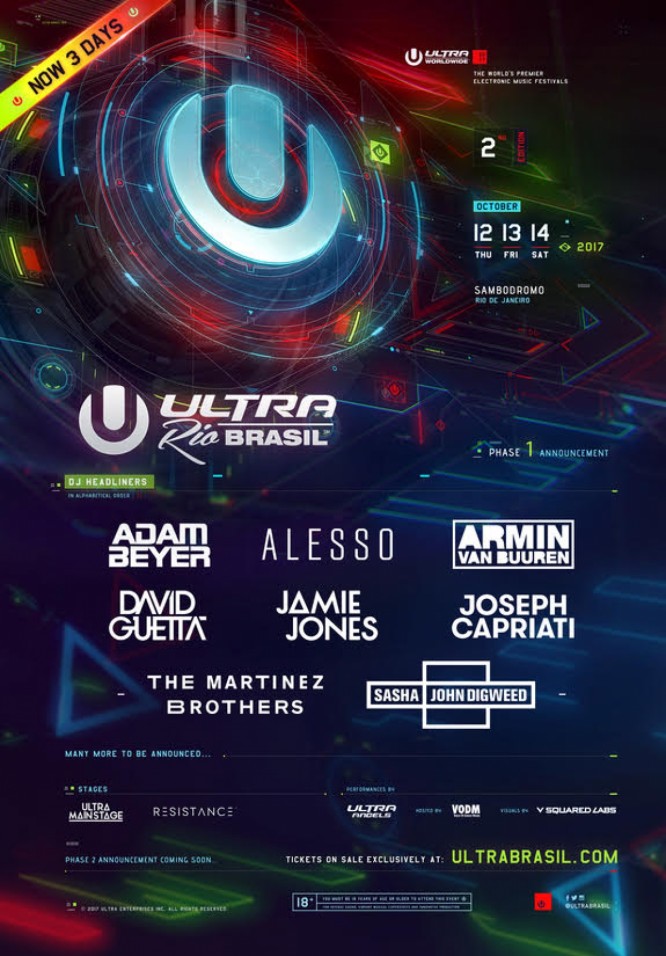 Ultra Brasil is set to dominate Rio de Janeiro for the second year on October 12th-14th with an extended amount of venue capacity. Ultra Brasil is unique in its own right because of it bringing techno and EDM into one. EDM chart-toppers like Armin Van Buuren, David Guetta, and Alesso have been scheduled to take on Ultra Brasil alongside underground heavy hitters like Jamie Jones, Sasha & John Digweed, Adam Beyer, Joseph Capriati, and The Martinez Brothers. This unification would make Ultra Brasil really stand out from the other Ultra Music Festivals around the world by showcasing that two distinct crowds can coexist in a single event. Techno and EDM listeners' ears are tuned to a different style and rhythm than each other. EDM really cultivates a plethora of styles and sounds, as does techno, but in a very different respect from each other, which makes it interesting to see such distinct sounds topping the festival's bill.
Information regarding the Ultra Brasil travel packages has been released on May 9th. As another perk of Ultra Brasil, Ultra Passport has also been instantiated in Brasil. You can purchase Tier 2 GA tickets here.
Be sure to follow Ultra Brasil's website, Facebook, Twitter, and Instagram for more information.