Mad Decent Gives Light to the Sounds of Syrian-Singer Omar Souleyman [LISTEN]
Dance music is enjoyed by fans from all corners of the globe, so it's only fitting that regional influences begin to shape the way we listen to electronic music.
So is the case with famous Syrian singer Omar Souleyman's newest release on Mad Decent with "Ya Bnayya." The debut single ahead of Souleyman's upcoming album on Mad Decent titled, To Syria, With Love, "Ya Bnayya" puts an electronic spin on the dabke influenced song, a popular genre throughout the Levant states. Omar Souyleman has long been a prominent figure in the Arab world, starting his career as a popular wedding singer and having producer nearly 500 studio and live recorded albums.
"Ya Bnayya" which translates to "Oh baby girl" in English, tells the story of falling in love with a beautiful brunette woman.

The lyrics translate as follows:
Oh girl you are the biggest thief
You stole my heart
You are the best
This is love at first sight
I have never tried it before
But you introduced me to it
You beautiful brunette
You are in every corner of my life
You are carved in my heart
You bring me so much happiness
Why did they say you were conceited
I will confirm that you have changed my life
Your love made me lose my mind
It made me raise the white flag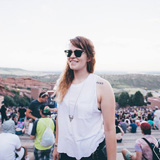 Devin Culham
Born and bred with the Detroit techno scene, I pledge my allegiance to the underground.