VELD Music Festival is Back with a Massive and Diversified Lineup
One of Canada's biggest music festivals is back with some major changes.
Veld Music Festival is entering it's 6th year and after a few weather fiasco's they are back with more stages, more acts and a larger venue space. Veld Music Festival 2017 still takes place at Downsview Park in Toronto, Canada, but the area has been expanded for new stages and activities. They have also focused on a more diverse line up to reach wider audiences by including acts such as Future, Migos, Tory Lanez, A$AP Ferg, Lil Uzi Vert and more.
Veld has primarily focused on electronic music, but over the years have welcomed more and more hip hop acts. The electronic line up this year includes names such as Major Lazer, Zedd, Tiesto, Madeon, Tchami, Slander and more. Check out the full line up and artist announcement trailer below.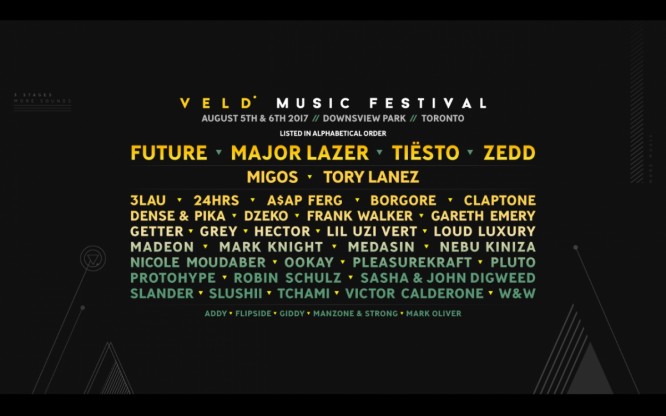 The event takes place over 2 days from Saturday, August 5th - Sunday, August 6th. A notable act missing from the line up is part owner of Veld and hometown hero deadmau5. This isnt the first time deadmau5 was not included in the line up and with him supporting his own tour this year, I wouldn't get my hopes up for him being a last minute addition to the line up. Regardless, the festival is coming back with a vengeance and extremely reasonably priced tickets are available now via http://www.veldmusicfestival.com/.
Cover photo courtesy of Nick Lee