UZ Announces Debut Album & New Single with OG Maco [LISTEN]
Though forever enshrouded in mystery and intrigue, we are about to hear more from the trap don, UZ than ever before. Dropping his third single in the last couple months, the release of UZ's latest, "Bad Gurlz," featuring OG Maco is what we now know to be on the heels of his debut album Layers.
Indeed the title is befitting for the ominous, and often cryptic, overlord of trap. His most recent works have spanned the spectrum, from "Stockholm White," a frantically high energy dance track, to "Bad Gurlz" a heavy hip hop influenced track with a low end that's larger than life. Despite the various influences from which his tracks are derived, UZ's experimental nature knows no limit, and it's all the more reason why an album from him is something to be excited about.
Layers boasts a cast of noteworthy features from all walks of life. From grime duo Foreign Beggars to Quality Goods Records protégée Oski, and many more, Layers has the ambition and potential to bring a slew of promising and established talent to the forefront.
Check out UZ's brand new single "Bad Gurlz" below featuring OG Maco, and take a look at the tracklist for his forthcoming album below, Layers is set to drop June 30th.
Layers Tracklist:
1.Introspection
2.UZ & Two Fresh- Stockholm White ft. Elliphant
3.UZ & Axel Boy- Paradise ft. Plezier
4. Million Dollar Bills ft. Gia
5. Inferno ft. Oski and Craze
6. Gone ft. Kevin Flum
7. UZ & Stooki Sound- Bang ft.Foreign Beggars and Onoe Caponoe
8. Storm- ft. Blow Fever
9. Bad Gurlz ft. OG Maco
10.With You ft. Josh Pan
11. On Me ft. Lil Silk
12. Lobby ft. QUIX and Chaz French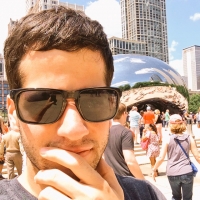 Cameron Sunkel
Born and raised in the home of house music. University of Illinois alum. Artist management & PR.