Top 5 Reasons Why WayHome Music & Arts is Canada's Premier Music Festival
*Sponsored content
WayHome Music & Arts is returning for it's third edition this June 28th-30th and is prepping for its biggest year yet!
Although there is plenty of competition to choose which festival you and your crew are going to conquer this summer, WayHome is definitely one that should be on the top of your list! Taking place on the beautiful Burl's Creek Event Grounds in Oro-Medonte, Ontario, WayHome offers and unmatched experience for festival goers by delivering stellar production with fans in mind.
Check out the Top 5 reasons why WayHome is going above and beyond your average festival experience.


1. The Lineup
With too many festivals shuffling the same three headliners, WayHome stands out beyond the rest with their eclectic lineup that offers top-notch talent buying. There's no need to get lost in the sauce when you've got a lineup that features top-notch talent like Flume, Justice, and Porter Robinson offering you your EDM fix. But don't just get locked into listening to beats when music critic's favorites like Solange, Frank Ocean, Death from Above 1979, The Shins, Foster the People, and Schoolboy Q deliver the indie-rock, soul, and hip-hop vibes, that have long been missing from our favorite lineups.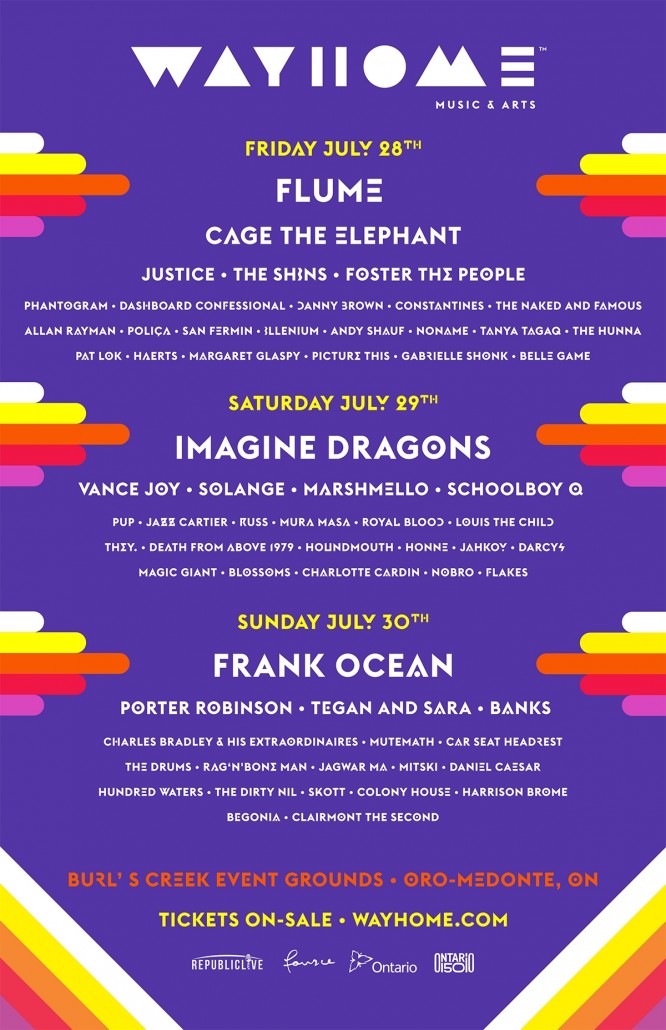 2. The Space
What's the point of going to a music festival if the only thing you're going to do is look at the back of someone else's head? Instead of camping out hours before your favorite artists set so you can ride the rail, the folks over at WayHome have intentionally designed the festival's grounds to be on a gradient. This means that party monsters in the back can get their groove on with plenty of space AND still be able to see the stage! Why doesn't every festival do this?!
(photo courtesy of Rick Clifford)


3. The Experience
Isn't it about time you took a weekend to disconnect from your phone and social media to truly enjoy the liberation of being present in the moment? At WayHome, there's more than enough to entertain your festival fancy between music, art installations, and community-focused activities. Don't be afraid to take a break to look inward with a yoga class that can refresh your mind, body, and spirit before you jump out into the crowd for another night of non-stop dancing!
(photo courtesy of Ryan Bolton)


4. The Art
There's a reason why WayHome is called 'Music & Arts' and not simply a festival. WayHome is curating an immersive experience that goes far beyond just the lineup. With original and ornate flag designs flag from artist Angus Watt and structures from none other than Do LaB, prepare for a visual feast that will delight the senses!
(photo courtesy of Rick Clifford)


5. The Community
Everybody is welcome at WayHome! The second that you step into the festival grounds, you eschew labels and limiting terms to describe other people. You step away from "us" versus "them" and join a community of "we" that is accepting of people of all ages, backgrounds, and personal beliefs. Here at WayHome, you're safe to be exactly who you want to be and are free to express yourself and to show off your inner spark!