K?D Stuns us Yet Again with Synthy "Glitch Boy" [LISTEN]
K?d's rise to fame was inevitable after stunning us all in 2016.
The young producer has been riding his train to success without a single stop in sight. Not only was he given the chance to tour with the ever popular The Chainsmokers, he was also given the opportunity to collab with Deadmau5's prodigy, Rezz. He's bravely remixed some of the most notable producers of all time, such as Daft Punk, Porter Robinson, and Justice, without losing his unique sound. After charting on Billboard last week with his hit single "Lose Myself," K?d has released yet another unforgettable track.
K?d's newest release "Glitch Boy" continues his spectacular production style, with clear influences from Porter Robinson. The synth in the tune beautifully carries the vocals through the track, never skipping a beat. K?d's originality is present through the entire track, hitting us with dark, powerful bass alongside the addictive melody. Undeniably, K?d's consistent sound is one of the most unique and interesting to date.
K?d is unstoppable at this moment, and is on his way to being just as influential as his influencers. While his first tour is over, you can catch K?d at a number of upcoming festivals this summer. Take a look at his schedule below:
May 19th at The Loft Minnesota, MN
May 20th at Dada Life Compound Evolved New York City, NY
May 21st at Soundwave Edmonton, AB, Canada
May 26th at MDW Block Party Albuquerque, NM
May 27th at Sunset Music Festival Tampa, FL
June 10th at Life in Color, Puerto Rico
June 18th at Audiotistic Pool Party Las Vegas, NV
June 18th at Electric Daisy Carnival Las Vegas, NV
June 22nd at Club Vinyl Denver, CO
June 23rd at Paradiso Festival Quincy, WA
June 24th at Ryse Nightclub St. Louis, MO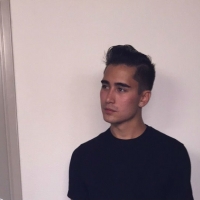 Niko Sani
Alaskan currently dwelling in the Pacific Northwest. Find me on the rail and we can talk about wubs in between headbanging. Basshead.