Don't Sleep on These Can't Miss Acts Coming to Summer Camp Music Festival
*Sponsored Content
Summer Camp Music Festival has long been considered one of the Midwest's best festivals.
Taking place this May 26-28th in Chillicothe, Illinois, Summer Camp offers a diverse array of artists from jam-band classics Umphrey's McGee and moe. to lesser known acts like Spafford and Manic Focus. Feast your eyes on the EDM heavy lineup, which is only a portion of this massive festival's talent!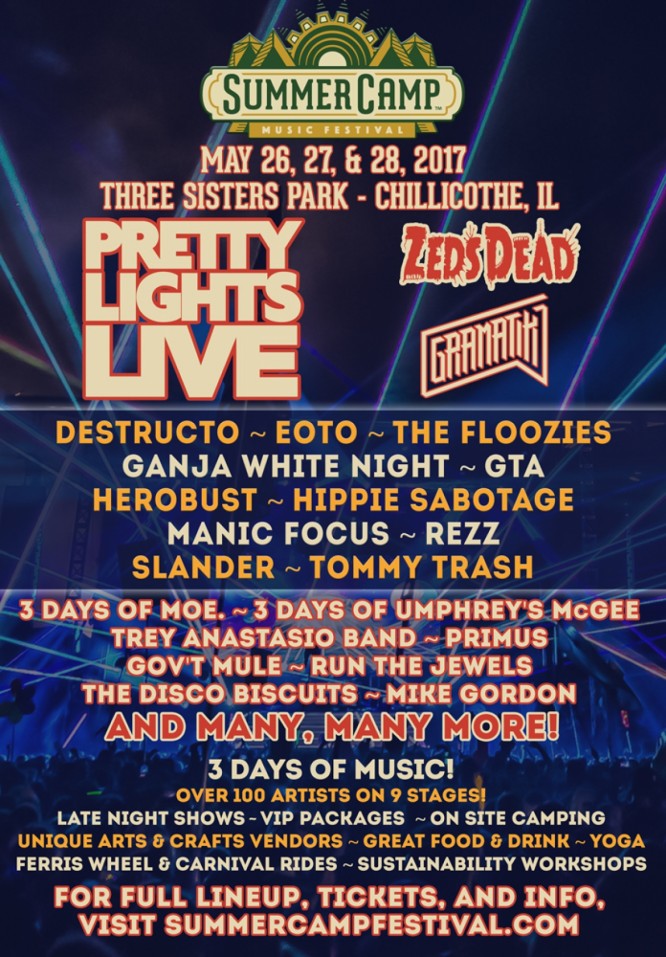 We all know you're gonna run to the main stage to catch acts Zeds Dead, Rezz, and Slander, so let's just stop and play pretend for a bit and talk about the artists that you maybe have never listened to before. Whether you're looking for a break from the thumping beats or are just looking to dive deeper into psychedelic sounds you haven't heard before, here are 10 artists you don't want to miss at Summer Camp Music Festival!


1. Elohim
Elohim is bringing the summery vibes of her LA-sound all the way to Illinois. A little bit indie-pop with a heavy dose of retro synthesizers to complement Elohim's airy vocals, this is the perfect fuel for a daytime dance party.


2. The Claypool Lennon Delirium
Is The Claypool Lennon Delirium electronic music? Not a bit. But, when you put together Les Claypool - bassist of Primus - with Sean Lennon (yes, John Lennon's son!) you can expect a super psychedelic side project that offers bizarre tales from their debut album Monolith of Phobos peppered in with a few Beatles covers.
In a few words... DO. NOT. MISS.


3. Escort
With heavy disco influences, Brooklyn-based live band Escort offer a deliciously guilt-free dance party that brings that leans heavily on live improvisation as it does it's 70's era grooves. If "Cocaine Blues" doesn't make you want to get up and dance, I don't know if there's much that will.


4. Desert Dwellers
Get ready to go on a spiritual journey with some seriously heady beats from Desert Dwellers. Tying together meditative sounds of yogic chanting and the natural world with folk drumming and some seriously deep beats, Desert Dwellers will transport you out of this world.


5. Sunsquabi
Signed to GRiZ's very own All Good Records, Sunsquabi is bringing in the new generation of live-electronic music. With sexy basslines, sultry saxophone, and a few guitar solos to boot, who said dance music fans couldn't get down to some reinvented jam? These guys are on the up and up, so prepare to see them take over more festival lineups with their enigmatic live performance.


6. Pretty Lights Live
With his roots in Colorado, Pretty Lights turned the dance music scene on his head when he first began releasing his hip-hop infused albums for free in 2006. Fast forward 10 years, and Pretty Lights has encompassed a whole new dynamic to his show by bringing live instruments on stage to jam over Derek Vincent Smith's well-known beats. You don't want to miss the magic in action!


7. EOTO
What do you get when percussionists of The String Cheese Incident, Jason Hann and Michael Travis get together to start a live-improvised electronic act?
Some seriously dope beats.
But don't take our word for it, each of their sets is one-of-a-kind so you can be sure that each experience with EOTO is one that won't ever be replicated.


8. Destructo
This should be a no-brainer. If catching HARD Events and Holy Ship! mastermind Gary Richards behind the decks isn't your number one priority, you should really rethink some things.


9. Herobust
Another dubstep heavyweight, Herobust has been on the rise for the past several years with his spine shattering sound. His appropriately named "Vertebreaker" fresh off of his 2017 EP of the same in has already clocked in nearly 1 million plays.

Do you really think 1 million people are wrong? Didn't think so.


10. Figure
Figure has been a mainstay of the North American dubstep scene for several years, but that doesn't give you any reason to miss his set. When you're in for some seriously gnarly bass, look no further than Figure to deliver your fix.