Don Diablo Talks New Collaboration with KSHMR, Album Release Details And a Brand New Music Video
Don Diablo has been pretty much all over the internet as of the past week, post his alleged mistreatment at Ultra Music Festival in Singapore. He sure created a stir with that elaborate video message spelling things a lot of artists wouldn't dare to out. But not just that, the dutch DJ has also been on his heels churning out a lot of new music lately with his festival sets flooded with ID's, all of which we CANNOT wait to get a release date on.
With a new album long overdue now, just yesterday during an Instagram Livestream, Diablo divulged some details about this much awaited masterpiece. Along with giving tuned in Hexagonians teasers of what to expect on the album, he also revealed the album would have a November 2017 release date. His loyal fans can hardly seem to wait though, earlier this month a Reddit user painstakingly put together what he thought could be the possible tracklist for the new album! Talk about a dedicated fan much?
Diablo also went on to discuss future collaborations which were in the works stating that he wouldn't be working with Nicky Romero as has been contemplated in the past. However, the near future will see the Dutch DJ collaborate with another Dutch wonderkid Oliver Heldens as well as the enigmatic KSHMR.
Yesterday sure was a great day for the Hexagonians, prior to the livestream which was stuffed with teasers of ID's and details, Diablo also released the music video for his latest single "Save A Little Love." Speaking about the song along with the video release, Diablo says,
"I wanted to make a feel good song with a positive message that will put smiles on peoples faces, while still incorporating my trademark sounds."
The song which features vocals from the talented duo Smith & Thell had been making repeated appearances in his sets from a few months ago and had sparked an interest with his listeners ever since. Check it out below and break a little sweat. As Don himself said, "Keep dancin' and keep smilin', it makes the world a better place!"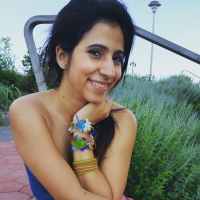 Melody Siganporia
When it comes to music, it's all about the Melody. And no, it's not just for namesake! Digital marketer by day, front row raver by night!