Largest Outdoor Techno Festival In The World Is Officially Sold Out
The Awakenings Music Festival in Amsterdam is only a few days away and with a lineup like this, it's no surprise that the event has already sold out. For years on end, Awakenings has been Europe's go-to techno festival, featuring only the best DJs that the scene has to offer. Something else that makes this event so unique is that it able to proudly boast the title of being the largest outdoor techno festival in the world, with over 70,000 visitors over the course of the weekend. Pioneers to the genre such as Maceo Plex, Adam Beyer and Sven Väth are just a few of the artists to be featured on the 100 person strong lineup.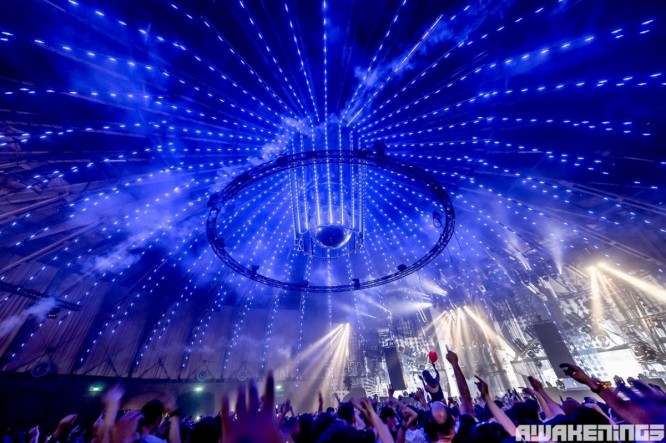 For those who weren't able to purchase tickets to the festival this year, Awakenings has extended their ADE techno marathon for this year. From October 18th-22nd, the legendary venue Gashouder in Amsterdam will be hosting another enticing lineup of techno artists. Some of the featured acts include Len Faki, Joris Voorn, and Joseph Capriati. What makes this 20th anniversary so unique compared to other years is that on the 20th and 21st of October, Awakenings has planned daytime shows that will lead into the night, giving attendees a chance to dance throughout the early evening until sunrise. Tickets for the event will be sold individually, with prices ranging anywhere from €42.50 - 49.50. Don't wait until the last minute if you are considering to attend, for these will most definitely sell out in the near future.
Check out the full list of dates for the ADE below:
18/10: Awakenings x Len Faki present Figure Nacht
19/10: Awakenings x Adam Beyer presents Drumcode
20/10: Awakenings x Paul Kalkbrenner presents Back to the Future
20/10: Awakenings x Joris Voorn & Friends:
21/10: Awakenings ADE Special by Day
21/10: Awakenings x Joseph Capriati invites
22/10: Awakenings x Klockworks present Photon
For tickets, check out the link below
https://www.awakenings.com/nl/en/events/
Photos courtesy of Awakenings