Deadmau5 Shares Full Debut Testpilot Set on BBC Radio One Residency
The latest installment of BBC Radio One's Deadmau5 residency saw the re-appearance of his alternate Testpilot alias. Making headlines earlier this week at Detroit's Movement Festival, the debut Testpilot live set was cut short due to technical difficulties resulting from bad weather. Despite multiple interruptions, the set still received a vastly positive response. For everyone wondering what they missed, you're in luck. Testpilot has re-recorded his set uninterrupted exclusively for BBC Radio One, and it can be streamed in full below.
Recent Deadmau5 sets have demonstrated the superstar DJ's gravitation towards the darker sounds of house and techno, and it's no surprise the Testpilot alias is foundationally rooted in these genres. The 90 minute set additionally revealed teasers of at least one Testpilot unreleased original, indicating possible intentions to eventually release music under the alias. The remaining 30 minutes mark a shift back to Deadmau5, giving him the opportunity to showcase some of the top notch content coming from Mau5trap artists Feed Me, Rezz, and No Mana as of late. Check out the full two hour set below!
TESTPILOT Tracklist:
1. CTRLS – Charge (Rrose Remix)
2. Raxon – Sin Control
3. ARTBAT – Wall
4. testpilot – Headroom (Working Title)
5. DJ Deep & Roman Poncet pres. Adventice – Chop Chop
6. Julian Jeweil – Traffic
7. Yan Cook – Pauk
8. Shlomi Aber – 48V (Truncate Remix)
9. Maceo Plex – Conjure Floyd
10. Pig&Dan – Below The Belt
11. Tony Rohr & Layton Giordani – Careless Suggestions
12. WHYT NOYZ – SynthesiZe (Pig&Dan Remix)
13. Stefano Noferini & Bulaklak – Turn Off
14. Layton Giordani – Supernova
15. CTRLS – Charge
16. Rrose – Wack (Variation One)
17. Phil Kieran & Jochem Paap – Paint And Chemicals Dept
18. Rrose – Waterfall
Deadmau5 Tracklist:
19. No Mana ft. Zashanell – Clear (REZZ Remix)
20. Kill The Noise & Feed Me ft. Anjulie – Crazy Maybe
21. Lane 8 – Little Voices
22, Edu Imbernon & Duologue – Underworld (Undercatt Remix)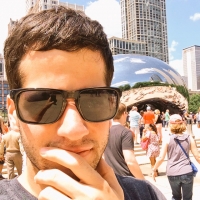 Cameron Sunkel
Born and raised in the home of house music. University of Illinois alum. Artist management & PR.