Enter for a Chance to see EDM Legend Hardwell Live at Governors Island June 17 [GIVEAWAY]
*Sponsored Content
We are less than two weeks away from one of the biggest shows of the year! Hardwell and friends will be invading Governors Island on June 17th, for a once in a lifetime show that only an EDM legend could provide. We can already hear it now, hit after hit after hit, brought to us by the Dutch superstar.
In an interview with the man himself, he talked to us about his mammoth new single 'Creatures of the Night' featuring Austin Mahone, and told us 2017 would be a huge year for Hardwell fans, and to expect big shows with awesome stage production!
Hardwell on the legendary Governors Island is already a must see, but throw in some other EDM superstars like Deorro, Bassjackers, & 4B, and you have yourself a bucket list show!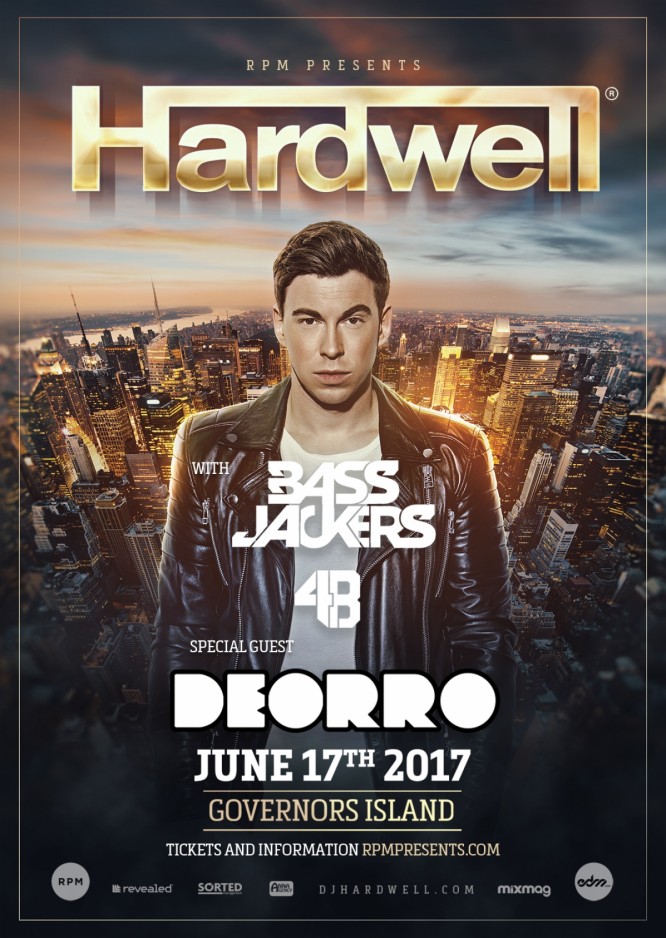 Deorro has been dominating the airwaves with his extensive collection of classics like "Five Hours" and "Tell Me Lies" ft. Lesley Roy. At only 25 years old, Deorro is already shaping up to be the future of EDM. You're not going to want to miss his set on the 17th! I can't see into the future, but I'm fairly certain it is going to be an unforgettable set!
Then we have Bassjackers. This duo has been making music since high school, and the years of experience is very obvious! Working with some of the biggest names in EDM (including Hardwell) they skyrocketed into EDM stardom. With some hits like "Joyride" and "Can't Take It", these high school friends have shown the world who's boss!

We know how unforgettable this night will be and we want to make sure everyone has the chance to experience the insanity first-hand, because Snapchat videos just don't cut it. So, we've teamed up with RPM Presents and the Hardwell team to give you a chance to win free tickets! This year we are giving away two VIP tickets to the Governors Island show (ferry included) plus a once-in-a-lifetime meet and greet opportunity with none other than Hardwell himself!
Just enter via the widget below or follow this link and get ready for an experience you and your best friend will never forget.
You're not going to want to miss this one! Be sure to enter for your chance to see the one of the biggest shows of the year!