Wooli Shows Off Two Distinct Styles on Circus Double Feature [LISTEN]
2017 has been an astonishing year for bass music, and in a way it feels like we're slowly breaking through into a new era. Talent has been popping up from all over the world, and with so much talent on the rise it makes you wonder who the next greats might be. Especially when some of these guys come out of the gates so strong, showcasing not only creativity and innovation, but also their ability to diversify their sound. While extreme diversity in an artist's sound isn't totally necessary, and it's true that an artist should find a sound that fits their vision and their voice, if someone were able to produce two totally different styles of banger, they would surely not only get noticed more quickly, but their skill as a producer is showcased that much more.
There are a multitude of producers on the come up that fit this bill, but in celebration of his first release on Circus Records, let's talk about Wooli for now. Since his emergence in late 2016 Wooli has always bounced back and forth between some of the most savage, nasty dubstep around right now, to harmonic, blissful future bass. On July 7 Wooli debuted his first single on Circus Records, a double feature titled "Back/Like I Used To." That music duality is as clear as the album cover might suggest and true to Wooli's dubstep/future bass combo that keeps our hearts full and our heads knockin. The two tracks are a perfect debut for a newcomer on such an esteemed label.
"Back" is a brilliant bass heavy banger, featuring a nostalgic 'guess who's back motha' sample I'm sure we all know, and if you're not familiar with Wooli, this track would be a good start to getting familiar with his unique take on dubstep. It's all the rage you're used to but with some alien sound design that keeps things completely fresh.
On the other side of the coin we've got "Like I Used To," an emotionally driven future bass tune featuring a soulful vocal performance by Eli Flynn. Instead of making you want to rage, this track sweeps you away into a cloud of angelic chords and a restlessly elegant melody that could bring a tear to your eye. Be sure to wipe that tear and keep that eye on Wooli and his future releases though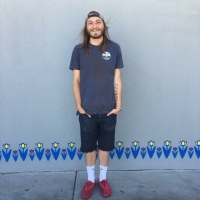 Will Shuttleworth
Here in Boise we might not have the biggest scene, but we can rage with the best of em. If I'm not throwing lights/raging at an event I'm probably snowboarding.