Russian Duo VOLAC Drops Big Bass House Banger With 'No Love' [PREMIERE]
There aren't too many Russian acts that have dabbled in the world of bass house, but VOLAC is on a mission to change that.
With their latest track "No Love" featured on HARD Events founder, Gary Richards, record label Hits Hard, VOLAC are making moves to take over the States.
"No Love" is a big booty bass shaker, with the Pusha-T stylized vocals that keep the listener's attention. Mixing between the favorable club sounds of underground house music with the thirst for bass that American audiences salivate over, VOLAC are positioning themselves to take over the main stage very soon.
With a 10-date tour taking place this August, there's plenty of chance to catch VOLAC in their element in a city near you!
08.03 – EOS Lounge, Santa Barbara CA
08.04 – Maya Day & Nightclub, Scottsdale AZ
08.05 – Bang Bang, San Diego CA
08.06 – HARD Fest, Fontana CA
08.08 – TBA
08.09 – La Cave, Orange County LA
08.10 – Ethics Music Lounge, Austin TX
08.11 – The Mid, Chicago IL
08.12 – Flash, Washington DC
08.13 – Elements Festival, New York NY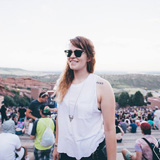 Devin Culham
Born and bred with the Detroit techno scene, I pledge my allegiance to the underground.