Once again, Serbia's EXIT Festival Proves it's More Than Just a Music Festival
I just realized this was my fifth Exit in a row as I approached the festival gates.. Ninth overall, and if I haven't miss one in 2012, it would be tenth in both categories. With so many memories from the scenes and faces that I had witnessed over the year I just had to ask myself - what keeps me coming back?
Apart from it being in my hometown, obviously, EXIT provides a unique combination of location, spirit and most diverse lineup, which really suits someone with schizophrenic taste in music, like myself
EXIT festival started in 2000, as a part of anti-government protests, before the presidential elections on September 2000. The festival lasted for 100 days during summer, ending just two days before the election day. It featured concerts, parties, plays and movie projections. The festival's slogan was "Exit out of ten years of madness", referring to decade under Slobodan Milošević, in which the country was hit by wars, isolation and sanctions. Milošević lost that election.
A year later, festival got its present location - Petrovaradin fortress, where it's still held, and in 2003 Exit became a professional and commercial music festival as it's known today. Yet, Exit never abandoned it's activist roots, fighting against human trafficking, spreading messages about social justice, national, sexual and gender equality, as well as many others.
Along with the festival, events called Get EXITed were held before the festival itself, featuring some of the biggest names in music industry. But this year it came with a totally new concept. As the main stars The Killers could play only a day before the festival, the event itself became "Day Zero", spreading the festival to five days. However, as The Killers concert took place on the festival's Main Stage, the organizers decided to open two other stages - No Sleep Novi Sad, and legendary Dance Arena, for a No Sleep Festival, headlined by Detroit Techno legend Jeff Mills with a jaw dropping three hour set. While The Killers concert requested separate ticket, No Sleep Festival was free for everyone with festival ticket, or daily tickets.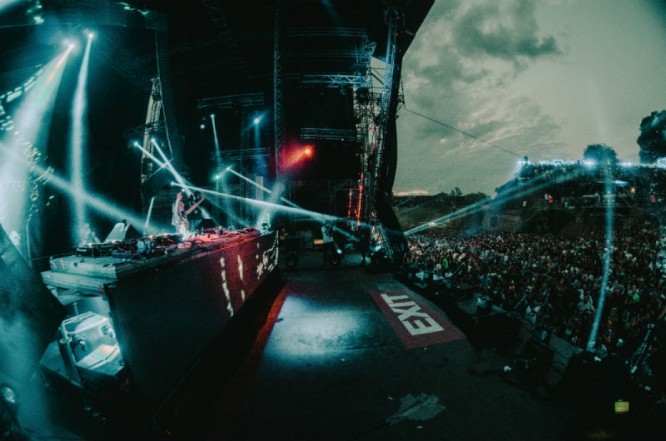 Sister Bliss
I already mentioned the genre diversity at the festival, and already with the day one, it was clear this year will be no different. Across the 20 stages it was possible to hear everything from Techno, House, EDM, to Drum and Bass, Dubstep, but also Rock, Punk, Metal, even traditional and World music. One more thing has to be clear about the Exit - the fortress is huge, so you need to be in shape. Also, it takes a lot of planning in order to see everyone you want, and even then, be prepared to limit yourself to a few sets per night.
So, although Dance Arena hosted acts like Booka Shade and Paul Kalkbrenner, we decided to stick to the Main stage, headlined by Liam Gallagher, ex-frontman of iconic British band Oasis. Voted in UK as the best frontman of all time, and followed by his new band, he provided set filled with Oasis hits, and new song from his upcoming debut As We Were. Being in the crowd of 30 000 people who sing along with 'Wonderwall' and 'Morning Glory', was the festival we could only wish.
After British legend, the stage is taken over by Belgian DJ and producer Lost Frequencies. The rising star of European House scene fired up crowd with both his music and special effects, and showcasing his hits 'Are You With Me', 'Reality' or 'Here with You', collab with fellow Belgian star Netsky. Young Norwegian Alan Walker came in next, making the stage his own. Despite his young age, he seemed more than ready to take on huge crowd, and steal the show. 'Faded' received huge sing along, just before he left the stage, making a way for British drum and bass duo Fred V & Grafix who lead the crown through the sunrise.
Day two left us hating ourselves for missing Black Coffee perform at Dance Arena, but once again we headed to Main stage. Although headlined by British stars Years & Years and Jake Bugg, we were there for our fix of bass music. Starting with legendary Brits Bad Company, the crowd went crazy, and was left hooting wanting more. Messy MC did his job marvelously, while duo behind the decks showed their class. They even played two 'local' remixes, one of them being 'Belly of the Beast' by legendary Serbian reggae musician Hornsman Coyote and Jah Mason, followed with the neurofunk take on 'Lion King' theme by Croatian producer Filip Motovunski.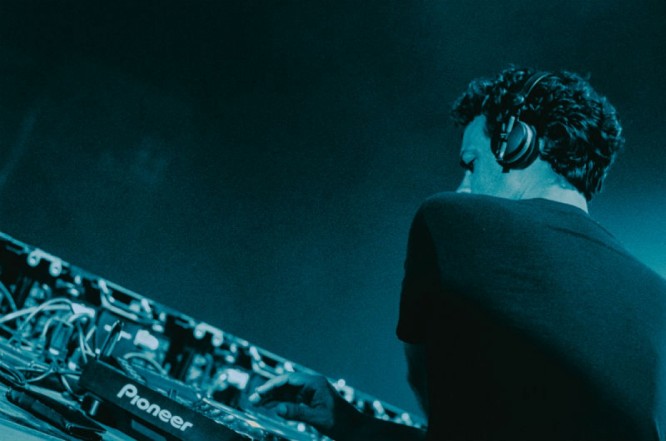 Black Sun Empire
After British duo left the stage, it was time for another legendary drum and bass name - Dutch group Black Sun Empire. The masters of dark vibes showed why they are considered as a household name of neurofunk, making their two-hour set one to be talked about. Dark, deep, aggressive, everything we could expect from them. Funtcase, who came on next was there to welcome the daylight with the crowd.
Day three offered more than anyone can take. Headlined by pop star Jason Derulo, who we decided to skip, it offered sets by Noisia and Foreign Beggars on the Main stage, while Dance Arena offered sets by Robin Shulz, Duke Dumont, Faithless, Hot Since 82, and Kungs. It was the French rising House star who we saw first, only to make sure French scene doesn't have to worry about it's future.

Back on the Main stage, Noisia were representing their Outer Edges Show, one of the best concert experiences I saw in my life. During an hour set, they went through their last record of the same name, combining it with some older favorites. Visual effects brought the show to a next level, making the crowd go crazy, even causing huge mosh pits during remix of The Prodigy's 'Smack My Bitch Up'. If you ever hav a chance to see this show - do it. Go see it.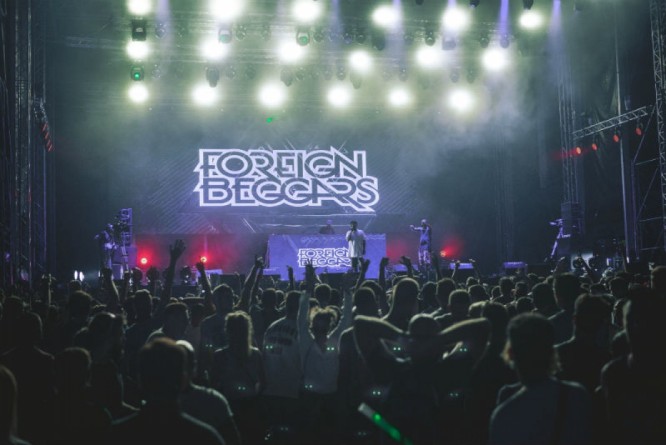 Foreign Beggars
As Foreign Beggars prepared for their show, we had just enough time to see the grand opening of Duke Dumont's set in front of 25 000 people on Dance Arena. It didn't take long until he got the crowd going, showing why he is one of the biggest superstars today. Foreign Beggars on the other hand delivered aggressive combination of dubstep and hip hop, causing the madness in the crown. They even had a special guest - Sunday's headliner Rag 'n' Bone Man who joined them on stage with crazy reactions from the pit. Mosh pits were coming one after another, while 'Shellshock' saw huge wall of death, just before the end.

Back to Dance Arena where Duke Dumont caused a huge sing along of 'Ocean Drive' just before he left the stage to lovely Sister Bliss of Faithless. Amazing set filled with Faithless classics got us through the sunrise, while Hot Since 82 came next to make sure nobody could go home, but straight to work.

Last day started with art pop diva Róisín Murphy on the Main Stage, making great warm-up for English blues pop singer Rag 'n' Bone Man. He provided energetic set, culminating with his smashing hit 'Human'. Up next, closing the Main stage, came Dutch EDM superstar Hardwell. With venue packed to the last square inch of space, he wreak havoc in front of almost 40 000 people. Dance Arena on the other hand, offered a little less star-filled lineup, until the very morning when Techno sensation Nina Kraviz took over, closing it in style.

Exit festival is not yet another EDM festival. As an only major festival in Serbia, Exit combines all genres, all sounds, and artists from all over the world, making itself one of the most important cultural events. As a concept, it can be seen as a baby brother of British festival mastodon Glastonbury, making it a bucket list festival event for any music fan.
Photos courtesy of Tamara Samardžić