Do You Have What It Takes to DJ This Luxurious Ship Festival in Asia?
It's The Ship is Asia's largest music festival on the sea!
Over 4000 passengers go on board on this luxurious cruise mixed with an electronic music festival. We've talked about how the after movie from the 2016 edition was unbelievable, from their stacked line up to David Hasselhoff as the official ship captain. Now, It's The Ship is giving you the chance to be a part of the fun through a DJ competition called the "Deck Selecta" competition! 3 skilled DJ's will win & perform a set aboard the four-day event! The cruise will depart from Singapore, spend the day in Phuket, Thailand for a beach party before returning. The competitions winners prize will include travel (no global restrictions, so anyone can enter), accommodations and VIP treatment! Check out last years trailer for what's in store!
To enter, DJ can upload one original track and one 45-minute mix (including 2 original tracks and an accurate set list) to either SoundCloud or Mixcloud. Remember to name the mix "Deck Selecta – ARTIST NAME". Then, all you have to do is head over to this link and enter: http://www.itstheship.com/deck-selecta. If you looked at the after movie above, you understand this is the opportunity of a lifetime, so we encourage all to enter! Submissions will be accepted from now until July 27, 2017. You must be 18+ to enter.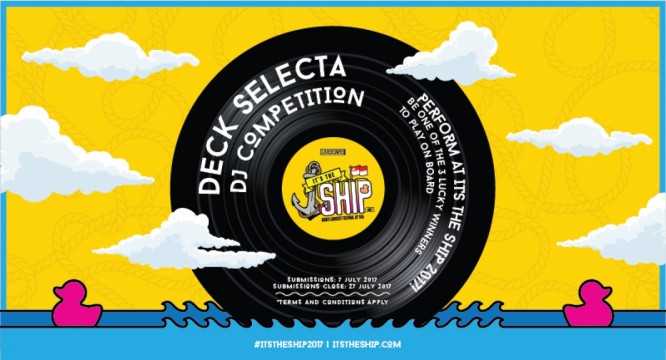 If you are looking to attend the festival ship experience known as It's the Ship, there's still time. The ship doesn't set sail until November 17th, 2017 and will return from the party on November 20th, 2017. Early bird tickets are already completely sold out, so book a cabin today by visiting www.itstheship.com. They even have an amazing "Roommate Match" initiative, where guests wanting to attend alone can pair up with others doing the same, so you don't have to pay the full single occupancy rates! For more information or to apply for a the roomate match program, email info@itstheship.com.