Check Out Who's In The Lead On The Last Day Of Our Limitless Summer Remix Competition
Today is the last day to upload your tracks to the Limitless Summer Remix Competition! The EDM.com team, alongside our friends at Limitless Life and Night Nation Run, are pumped to give one lucky producer the opportunity to win a spot on the mainstage, along with some truly awesome prizes. Our contestants are remixing the track "Get Up" by Kryoman & Jounce, and seeing if they can make something as insane as the original. The winner will be hand-picked on July 10th by Kryoman & Jounce; so hurry up and get those last minute submissions in to MyLimitlessSummer.com today!


Prizes
The grand-prize winner will be playing the mainstage at a Night Nation Run event of their choice with airfare and boarding included, EDM.com support for the remix, Limitless Life and Night Nation run gear, and you'll be coming home $1500 richer! This is a big opportunity! Enter those remixes now so someone else doesn't win your prize!
We're also giving the fan-favorite winner VIP tickets to a Night Nation Run event of your choice, Limitless Life & Night Nation Run gear, and $1500 cash! Get your fans, friends, and family to vote!
So you aren't a producer but you love prizes? No worries, we have some good news for you! Five lucky fans will win $100 cash, Limitless Life & Night Nation Run gear, and VIP tickets to a Night Nation Run show of your choice, just for voting! There's no excuses now! Get out and vote!
Okay, so let's get to it shall we? We've gathered data from Metapop to determine which had the most votes (after accounting for bots) and listed them out below. Let us know in the comments which one is your favorite!


1st Place - Blvckbass
In first place is none other than Blvckbass, accumulating an astounding 360 likes/votes! Check it out below:
2nd Place - TWSTN
In second place is up-and-comer TWSTN, with a remarkable 346 likes/votes. Listen to it here:
3rd Place - Thozi
Coming in third place is the producer, Thozi. Who crafted a wonderfully done future bass twist to the remix, check it out:
4th Place - El3mentary & Arcado
Placing 4th is El3mentary & Arcado who brought the heat with their hybrid trap remix:
El3mentary & Arcado - 336 Likes
5th Place - Dialock Blqck
And in 5th place is Dialock Blqck with a heavy remix of "Bounce:
(As of 07/03/17 5:00 PM EST)
Think you can do better than these five? It's not too late, get that remix uploaded today for your chance to win first place! Be sure to go to MyLimitlessSummer.com now and vote for who you think should be on the mainstage, and for a chance to win some prizes! And while you're online be sure to check out our judge Kryoman's new track "BIGGIE SAYS"!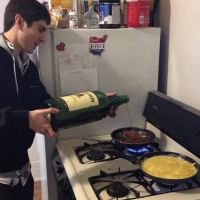 Nick Yopko
Digital Marketer. Music, traveling, and technology. Always planning my next adventure.