Want to Perform Music Internationally? Here is Everything You Need to Know About Touring Visas in the US and Canada
Jatin Shory, a legal expert from Canada, has spent the last few years studying the legal landscape behind the music and live performance space. Through his experiences working in various start-up environments in the industry, he has become versed in the field of immigration law and its impact on strategies for executing live performance tours in North America.
Disclaimer: The content in this article is provided for general information purposes only and does not constitute legal or other professional advice or an opinion of any kind. Users of this web site are advised to seek specific legal advice by contacting their own legal counsel regarding any specific legal issues. EDM.com does not warrant or guarantee the quality, accuracy or completeness of any information on this web site. This web site may contain links to third party web sites. Monitoring the vast information disseminated and accessible through those links is beyond our resources and EDM.com does not attempt to do so. Links are provided for convenience only and EDM.com does not endorse the information contained in linked web sites nor guarantee its accuracy, timeliness or fitness for a particular purpose.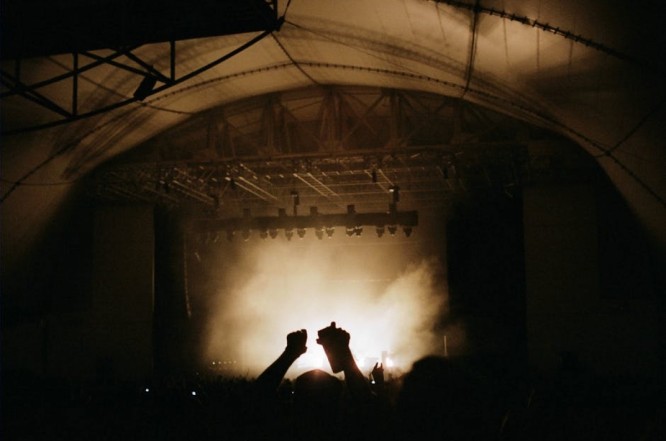 This is part I of a two part series. This article specifically focuses on immigration and VISA requirements when touring in the United States and Canada. The next will focus on the Performance Agreement.
Jumping into the exciting world of touring for a musician often marks a significant transition in their career. It becomes a profitable medium through which a producer can share his or her art with a loving audience of faithful fans and consumers. Notably, the North American touring market has become one of the most attractive for its heavy showcase of festivals and underground events. New venues and concepts pop up monthly in a market that isn't afraid to try something new. Often, unfortunately, artists underestimate the time, planning, and costs that often go in to executing a respectable tour here. Additionally, one of the most overlooked areas of touring (and the industry broadly speaking) is legal procedure. Therefore, I'd like to invite you into my world, and by the end of this two part series provide you with a very general vision of the legal landscape that will assist you in strategizing your next North American tour.
USA
1) Performing is considered work, and even if you're not making any money (which we'll get into in a few minutes), you still need a work permit to tour across the United States
Immigration policy in America is monitored by US Citizenship and Immigration Services (UCSIS). With a multitude of VISA options - mixed with Trump-policy dominated borders - it's important to ensure that you complete your VISA application with utmost precision. Most teams turn to an immigration attorney to complete their applications for them, and that's fine. However, in an effort to save you some time (and make you seem better prepared as you make your way to a lawyer who will likely drop somewhere between a $1000-$1500 USD fee to complete the application) here are a couple VISA options to consider and some supporting documents you should keep in mind when turning your mind to touring in the USA.
P-2 Visas for Canadians
Canadian musicians and artists can turn to the P-2 VISA when planning performances in the USA. This requires connecting with a government recognized reciprocal exchange program (Typically the American Federation of Musicians).
Details of the P2 VISA can be found at the USCIS Website.

The USCIS requires completion of the I-129 Petition for nonimmigrant workers for a P-2 VISA which can also be found on the USCIS Website.

However, keep in mind the following considerations:

• P-2 VISAs can only be valid for up to a year. USCIS will take into account your performance dates and often, will only issue the P-2 VISA for the duration of that time. For example, if your starting date is January 1st and your tour ends on March 1st, the USCIS will only grant you a P-2 VISA for that time;
• It is recommended by the USCIS to file this application at least 45 days before the first performance dates;
• You can request premium processing to guarantee your application is processed in 15 days however, there is a premium price attached to this;
• Essential support personnel who are an integral part of the performance of a P- 2 artist or entertainer and who perform support services that cannot be readily performed by a U.S. worker, are eligible for P-2 classification. Support personnel may include stagehands, trainers, or those persons having critical knowledge of the specific services to be performed. Each requires a separate VISA!
Fees:

• Filing Fees: $460USD
• Request for Premium Processing: $460 + $1225USD
• Lawyer Fees: ??
• Extra application fee's for essential support personnel: ??
Supporting Documents:

• Performance contracts for every venue;
• Itinerary of shows;
You can see how things add up here. Luckily, the friendly people at the American Federation of Musicians have created a helpful checklist when trying to complete the P-2 VISA application



O-1B Visa for International Acts
The USCIS describes those who qualify for an O-1B VISA as those "individuals with an extraordinary ability in the arts or extraordinary achievement in motion picture or television industry." This VISA can be granted for up to 3 years if you can provide an itinerary that outlines your 3 year plan with proof (typically some kind of written confirmation from a venue/ production company can work).
Details can be found at the USCIS Website.

The USCIS requires completion of the I-129 Petition for nonimmigrant workers for a O-1B VISA which can also be found on the USCIS Website.

Now, while many artists believe a number of blog posts, a few million plays of their tracks on socials, and some live touring opportunities bring them into the category of "extraordinary ability," it takes a lot more today to really show you have acquired "distinction" in the industry. Distinction can be characterized as "a high level of achievement as evidenced by a degree of skill and recognition substantially above that ordinarily encountered to the extent that the person is described as prominent, leading, or well-known in the field of arts."

So how do you try and prove that you've acquired this kind of "distinction"? Think about the following supporting documents:

• Having been or will be performing a lead or starring role in productions or events which have a distinguished reputation (as evidenced by critical reviews, advertisements, press releases, publications contracts, or endorsements) - Think: Have I headlined any major festivals outside of the USA?;

• Critical reviews or other published material in professional or major trade publication or in the major media by or about the alien which show that the alien has achieved national or international recognition or achievements - Think: Is that blog post about me really going to qualify as a major trade publication or is it just another blog post?;

• Evidence of a record of major commercial or critically acclaimed successes in the performing arts, as shown by box office receipts or record, cassette, compact disk, or video sales; - Think: How many millions of spotify (because today Spotify is really all that matters) plays do I have on one record?

• Evidence of significant recognition for achievements from organizations, government agencies, or other recognized experts in the field - Think: Do I have any big friends in the industry (record producers, label owners or managers, production company staff or chairs) who can vouch for my distinction in the field?;

• Evidence of having commanded a high salary or other significantly high remuneration for services in relation to others; - Think: Are my performance contracts paying me a lot?
Fees:

•Filing Fees: $460USD
• Request for Premium Processing: $460 + $1225USD
• Lawyer Fees: ??
• Extra application fee's for essential support personnel: ??
Now don't get me wrong, blog posts, millions of plays, and getting live gigs is a massive accomplishment and if you're consistently outputting this kind of energy then you're headed in the right track my friend. Keeping record of all your milestones can go a long way in supporting your case for "distinction" in the field. Keep professional prizes, press coverage about you & your work, publications by you (include peer-reviewed articles, editorials, op-ed, trade & general press, books, etc.), peer review by you of publications by others, patents, programs (from performances, exhibitions, panels, conferences, etc.), press releases, publicity materials, and paystubs – if you are paid significantly more than others in your field. These can all be submitted to help you case!
CANADA
Recognized for its friendlier international persona, Canada recently changed its laws so that members of the liberal arts could perform without the legal travel constraints evident in the region south of its border.

Immigration, Refugee and Citizenship Canada have provided some helpful information on the IRCC Website.

Simply put, if you want to add some Canadian tour dates keep the following in mind:

• You require a temporary resident VISA;
• You must also obtain an Electronic Travel Authorization ("eTA") - the steps are easy and can be found here.
Fees:
• Processing fee: $100CAD individual – multiple or single entry
• eTA Fee: $7CAD
• Legal fees: $400-800 (if you choose an immigration lawyer)

A good friend of mine in the industry once told me that he misses the days when artists used to bite tooth and nail to get on tour and perform live. Today, with a glorified presentation of the industry, it's common for artists who enjoy certain luxuries abroad to expect the same kinds of amenities when travelling in the United States or Canada. All of this adds up and given your 15% agent fee and 10-15% management fee, your profits as a travelling musician can become next to none.

Flights, accommodations, meals, travel bursaries, reimbursements, and taxes all play a role when considering how best to execute your tour in North America and more importantly, how to frame your Performance Agreement. That, however, will be covered next time.

...
Have questions? Connect with Jatin below!
Facebook: facebook.com/jatin.shory
LinkedIn: linkedin.com/in/jatin-shory-03214363/
Twitter: twitter.com/jshory