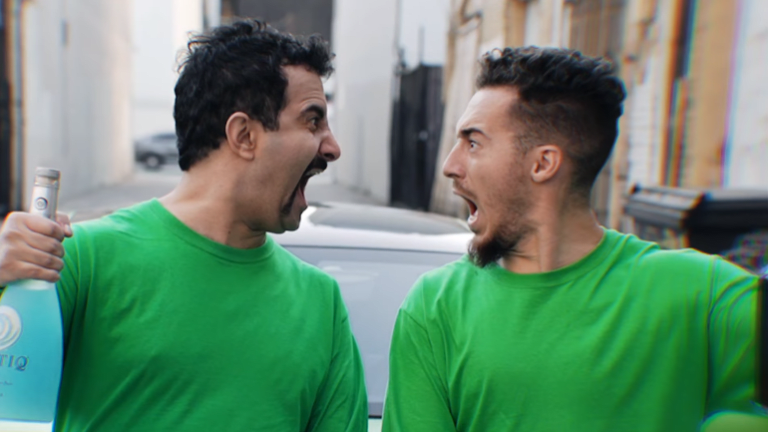 4B and Valentino Khan Break Stuff in Audiotistic Teaser
It appears the duo will perform together this December in Southern California.
Wild boys 4B and Valentino Khan just put out perhaps the most hype hype video today. The duo are seen driving in a green Mercedes Benz, slamming bottles of Hennessey and Hypnotiq, and going all Office Space on some unlucky printers. 
What the video is teasing remains ambiguous until the very end, and in just a few words, it seems what they're getting at is a back-to-back set at this year's Audiotistic at the National Orange Show (NOS) Event Center in San Bernardino, California. The only text featured in the video says "Hulk Gang," "Live 12/28," and "Audiotistic." That can only mean one thing, right?
Expect to see 4B and Khan back to back at the festival under a possible new collaborative alias, "Hulk Gang." Between the screaming and Hulk-smashing each other on the head with bottles, it seems the duo are pretty stoked to perform together. 
The video's caption reads "HULK GANG FOR PRESIDENT," lending credence to the theory that this back-to-back project may not just be a one-off performance. Will 4B and Valentino Khan release new music together as well? We won't find out until more information is released.
Audiotistic Music Festival takes place on Sunday, December 28th at the NOS Event Center in San Bernardino, California. Tickets can be found here. 
FOLLOW 4B:
Facebook: facebook.com/LIKE4B
Twitter: twitter.com/DJ4B
Instagram: instagram.com/dj4b
SoundCloud: soundcloud.com/dj4b
FOLLOW VALENTINO KHAN:
Facebook: facebook.com/ValentinoKhan
Twitter: twitter.com/ValentinoKhan
Instagram: instagram.com/valentinokhan
SoundCloud: soundcloud.com/valentinokhan