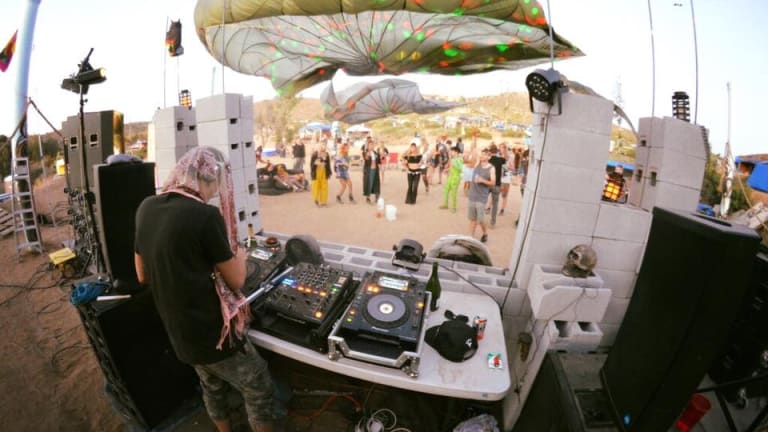 5 Dark Horse Techno Producers to Catch in the Desert for Midnight in Eden: Soulstice
L.A.'s newest underground techno party is attracting the music scene's freshest legends.
It's easy to get blindsided by greatness when you don't expect it in a show. It's even better knowing what's on the way is actually something exceptional, even if there's no preparing for it. 
It's just like watching a wave tower and climb towards the beach, until the eventual splash takes your breath away in a pouring avalanche of freshness. The endless search for mind-blowing music experiences may seem simple enough, but also like the waves in the ocean there are all sorts of swells and once one powerful enough makes contact, you might get knocked unconscious. You could drown in it. You may even be changed forever. Such is the nature of the forceful stylings assembled for the fourth edition of Midnight in Eden: Soulstice.
While you're sure to be shocked by the talents of others, we counted five music producers descending upon the DJ booth and - fair warning - their impact may redefine your understanding of techno. Obviously, there's really no amount of bracing yourself that will help, but to learn the legends of the most anticipated dark horses of the night just read on into the sections below. You may as well know who did this to you when it's all over.
SHADED
Calculated and emotional at the same time is the calling card of 'surf' techno pioneer Skyler Taugher, A.K.A. SHADED. Where other artists may try to fill a role in the tech house world, SHADED wants to rewrite the script. He attributes his visceral sound to growing up in Newport Beach with a father who was a classic rock producer, but has nurtured his own funkadelic tendencies at festivals located in the likes of America, Mexico and Croatia as well as clubs in London, Berlin and Brazil, just to name a few. In addition to receiving plays from the likes of Dubfire and Richie Hawtin, he's also toured with the SCI+TEC family and released the EP Dwell which peaked at #1 on Beatport's Top 100 Minimal Release chart. Like techno? Remember to tie your shoe laces before you hit the dance floor for his set at Soulstice, or risk getting your socks knocked clean off.
KANDY
Not being a techno act is one of the many reasons KANDY will turn heads at Soulstice. Coming off his best year yet and a recent performance at EDC Las Vegas 2019, KANDY's hit single off the Mad Decent label, "Feelin' KNT," was publicly loved by titans like Tiësto, Diplo, Marshmello and The Chainsmokers . At massive raves, major music festivals and pride events throughout the US and Canada, KANDY is a fast-loved fixture and a force to be reckoned with. Noteworthy both as a music producer and as a hero in the LGBTQ community, KANDY is an ardent ally on the dance floor and in the electronic dance music scene. Through his performances and his life he says, "It's important to show others that anything is possible and to be the best, most authentic YOU, that you can be."
Brennen Grey
Brennen Grey is an underdog with a spacey sound that emanates pure future nostalgia. Nods from legends like Victor Ruiz, Adam Beyer and Carl Cox have cemented his stature as a sophisticated and stylish techno music producer who is respected within the warehouse underground as well as on the biggest festival stages in the world. From EDC Las Vegas to Movement Festival to Amsterdam Dance Event across the pond, Grey has been known to deliver perfection at the early hours of the morning, when devilish tenebrosity and deep kick drums collide. Whether you're just waking up, about to keel over and fall asleep, or you're on team no sleep, Brennen Grey has got your number.
Tara Brooks
Dark and haunting with a brilliantly witchy flair, Tara Brooks could easily be called one of the most underrated women in techno today. She's performed at some of the most well-respected stages and venues on the planet, including: The BPM Festival, Envision Festival, Lightning in a Bottle, Coachella Music and Arts Festival, Sound in Los Angeles, Public Works in San Francisco and Verboten in New York City. She's also performed sets with some of the most prestigious purveyors of techno at Burning Man, like DISTRIKT, Pink Mammoth and Robot Heart. Brooks isn't the type to hype herself. She doesn't need you to know who she is, but when royalty takes the stage you will listen.
J.Gill
As far as dark horse acts go, there probably isn't a more exemplary qualifier for the category than the underground dynamo Josh Michael Gill, who you'll hear onstage by the moniker J.Gill. When he co-founded the label and music streaming platform Reflections, he was doing it as a hobby to satiate his own interest, blending tunes to pass the time. Before long L.A.-based technophiles and producers who were hearing his work had to do a double-take. Versatile and playful, his techniques range from hard-hitting techno to early morning playa tech. Whether he's playing a 4:00 AM psy-tech set or he's making music to bone to, his sets always deliver in a way that speaks to the moment and the crowd. To his friends, he's a walking Shazam app with total recall for track IDs. To his Coalesce crew, he's a wellspring of elbow grease behind-the-scenes at Soulstice and his characteristic grip on the reins of the dancefloor serve as a reminder that the most authentic music a person can create is the stuff you make for yourself.
Soulstice is held just a couple hours from Los Angeles in an isolated desert and it's a pack-it-in, pack-it-out event. Tickets are still available on Eventbrite and more info for the event can be found on their Facebook page.
Photos provided courtesy of Midnight in Eden: Soulstice.