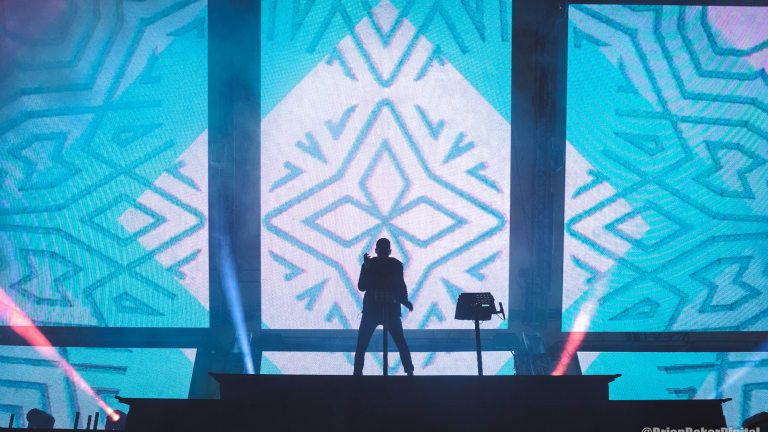 The 5 Perfect Events for a Music Festival Virgin
If you're scared to dive headfirst into the world of electronic music festivals, here are five events that can help you ease in.
It's no secret that as our calendars become saturated with one-per-weekend, the larger-than-life allure of electronic music festivals will continue to entice people of all experience levels. As the sheer number of gatherings proliferates at a breakneck pace (for better or for worse... probably for worse), it's becoming more and more daunting for festie babies to decide with which events they should whet their palate. 

Read on for an overview of five of the most beginner-friendly music festivals across the country.
5. Mamby on the Beach, Chicago, Illinois
There's no doubt Chicago knows how to party. From OG events like Lollapalooza, to birthing heavy hitter DJs like Kaskade, Chicago has been throwing down electronic beats since before many of us were even born. That being said, despite it's rough reputation and overt cliquishness, the Windy City has offerings for even the most hesitant festival virgin.
Mamby on the Beach is just that. Taking place on the actual beach of Lake Michigan, Mamby is a small, two-day festival that has a bit of music for everyone. If you aren't completely sold on EDM, Mamby typically includes rap, alternative and other normie music in its lineup.
4. TAOS Vortex, Taos, New Mexico
Meow Wolf's TAOS Vortex is a music and arts festival, with a strong focus on the latter. As such, it's a great little three-day camping festival nestled in the high desert of New Mexico.
TAOS is all-ages, and the organizers plan accordingly: quiet hours are from midnight to 8:00 AM, showers are available to all, and brunch is served for an extra fee. TAOS itself is quite intimate, but it still brings brand-name performance from the likes of Claude VonStroke, Flying Lotus, Zhu, and others. TAOS attendees are also granted free admission to Meow Wolf's ethereal imaginarium, the House of Eternal Return.
3. Dancefestopia, Kansas City, Missouri
A hidden gem in the Midwest, Kansas City, Missouri is home to some surprisingly worthwhile events. Though the city is small, it has a lot of spirit - and it's resident festival, Dancefestopia, is no different.
Taking place over four days in September, Dancefestopia regularly touts some of the biggest names in EDM. Their lineups have been graced by names like Tiësto, Bassnectar, Zeds Dead, Alison Wonderland, Big Gigantic, Ganja White Knight, REZZ, among many, many others.
Though their lineups may sound daunting to some, Dancefestopia should absolutely be a destination for festival babies. Its cozy footprint and laid-back camping allow for some truly intimate sets with world-famous artists. Not only that, but the festival is typically priced much more fairly than some of its larger brethren.
2. Electric Forest, Rothbury, Michigan
EDM veterans may balk at this entry in the list of "Festival-Virgin Festivals," but it's true: Electric Forest is an excellent festival for anyone looking to start their EDM journey.
Electric Forest has a bit of something for everyone. The lineups may be electronic-heavy, but by no means is that the only genre of music you'll find there. For those who aren't looking to suffuse themselves in heady beats for a full week of camping, the festival is chock full of scavenger hunts, performance art, visual art, and an entire massive forest of hidden secrets. If you don't want to see a single minute of music the entire week, you don't have to.
Perhaps one of the most legendary festivals in the United States, Electric Forest is an utterly magical place. The sense of familiarity and oneness among its attendees transcends the time and location of the festival; those who have attended, no matter the year, are all "forest fam." For these reasons (and many others), Electric Forest earns top marks on this list.
The Forest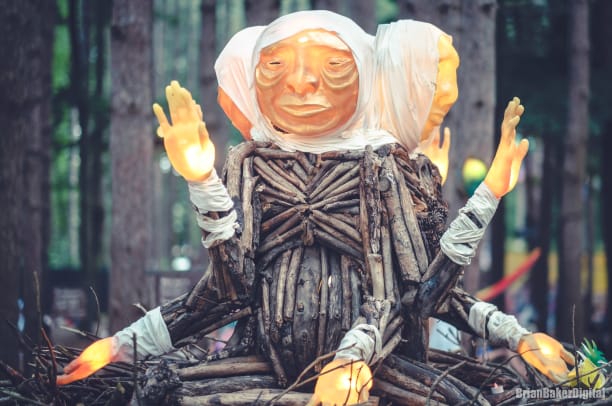 1. Tipper and Friends, Live Oak, Florida and other locations
Tipper and Friends events may be the most contended entry on this list. Indeed, Tipper's  brand of music is not exactly the most accessible to EDM newbies; however, his curated events are something truly special in today's festival scene. 
As EDM festivals have skyrocketed into the limelight of public perception, and as festival companies push us to the very limits, violently wringing as much money as they can from their attendees, Tipper and his events remain remarkably fan focused. Instead of packing as many hardcore EDM names into every free minute of the schedule, Tipper's curated events focus on partying responsibly. Every day has a dedicated time slot with no music (!) so that attendees don't forget to eat and recuperate, and performances are planned such that there are both uptempo and downtempo sets throughout the weekend. Tipper's events are likely the most mature and down-to-earth festivals of this era. 
For those who have never attended festivals, this is an excellent starter event. Not only is everything about it low key, but also you aren't forced to listen to heavy electronic music for 20 hours per day. At many other festivals, you don't have that luxury. Tipper and Friends is incredibly affordable to boot, and even then, organizers often give out heavy discounts to those in need. For his human-friendly approach to electronic music festival, Tipper and his events earn the top spot in this list.
Follow Mamby On The Beach:
Website: mambybeach.com
Facebook: facebook.com/mambybeach
Instagram: instagram.com/mambybeach
Twitter: twitter.com/mambybeach
Follow Meow Wolf and TAOS Vortex:
Website: taosvortex.com/
Facebook: facebook.com/meowwolf.sf
Twitter: twitter.com/MeowWolf 
Instagram: instagram.com/meow__wolf
Follow Dancefestopia:
Website: dancefestopia.com/
Facebook: facebook.com/Dancefestopia
Twitter: twitter.com/Dancefestopia
Instagram: instagram.com/dancefestopia

Follow Electric Forest:
Website: electricforestfestival.com
Facebook: facebook.com/ElectricForest
Twitter: twitter.com/Electric_Forest
Instagram: instagram.com/electric_forest
Follow Tipper and Friends:
Website: tippernfriendzevents.com
Facebook: facebook.com/TipperFriends
Instagram: instagram.com/tippernfriendz