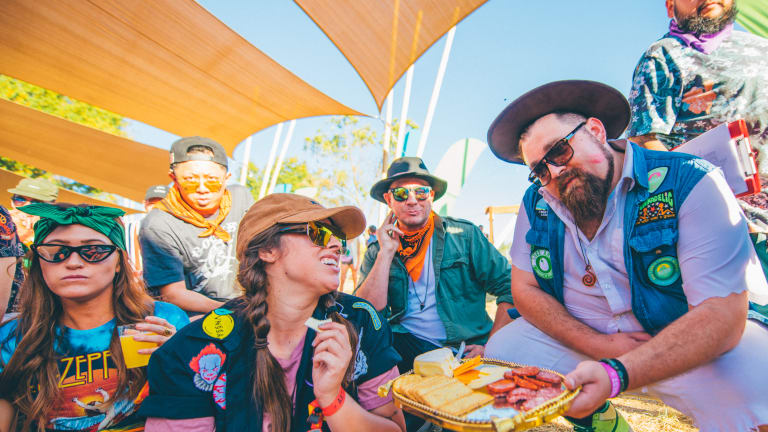 5 Intimate Moments Fans Shared with Top Talent at Dirtybird Campout 2019
Get to know the secret sauce in the recipe of Dirtybird's world-famous house music festival with a Summer camp spin.
Last weekend, Dirtybird Campout reminded the world how it transcends the rave mold with the fun of summer camp-inspired shenanigans. Fans enjoy activities like archery, potato sack races, screen printing and tie-dyeing. 
The best part is that a DJ on the lineup participates in each one. Sometimes, several do. That means those who partake in the antics get to walk away with the memory of a lifetime - in addition to that loveably weird and equally contagious house music that on which Dirtybird built their reputation. 
Ever wanted to play ping pong with Ardalan? How about a chance to throw down in a bocce ball match against Bot and Christian Martin? Maybe the daydream has always been to give Claude VonStroke a lap dance in the midst of a roaring crowd. 
Well, at Dirtybird Campout, achieving wild dreams like these are finally possible. You can even turn the weird up a few notches, and chances are you will only make a few more new friends in the process. If you were a part of the festivities this past weekend, take a stroll down memory lane with our highlights of fan moments from the weekend. If you weren't able to attend, then see what you missed and try not to make the same mistake next year.
CHEESE AND CRACKERS with VNSSA
The only thing better than a stage-side cheese and crackers party is enjoying that creamy-crunchy goodness with your favorite DJ. Those who partook of this bit of fun probably did so with VNSSA, who has been emerging as one of the most catchy beatmakers from the Dirtybird Label in recent years.
SCREEN PRINTING with Mija, Will Clarke and Sacha Robotti
If you simply showed up with a blank shirt, pillowcase or pair of pants assorted logos and symbols were available at the screen printing station. Will Clarke put in a lot of time to assist fans to get a solid clean press in assorted colors, so in addition to a bit of style, campers got a chance to meet the man behind tracks like "Booty Percolatin'" and "Techno (Not Techno)" as well.
BOCCE BALL with Christian Martin
There's nothing quite like tossing a ball around in typical bocce fashion - especially if the person you're tossing it with is Christian Martin. The sport is almost designed for the non-athlete because anyone can feel get a lucky toss and feel like a winner. Fans who enjoyed bocce ball did so alongside the alien legend himself. 
JUMPIN' with J.Phlip
Few folks out there can really jump like they might require in an aerobics class, and fewer still can hold their own in a game of jump rope. For those courageous enough or simply for those with the necessary hops, J.Phlip was on the scene skipping rope with campers. 
DANCING ONSTAGE with Everybody
For a number of sets, house music talent are joined on stage by fans in huge, stomping droves. When shoes started shakin' and the costumes got to wiggling, the excitement was one of the most nostalgic moments of intimacy fans enjoy at Dirtybird Campout each year.
For more info about Dirtbird Campout connect using one of the links below.
Follow DIRTYBIRD CAMPOUT
Facebook: facebook.com/dirtybirdcampout
Instagram: instagram.com/dirtybirdcamp
Twitter: twitter.com/dirtybirdcamp