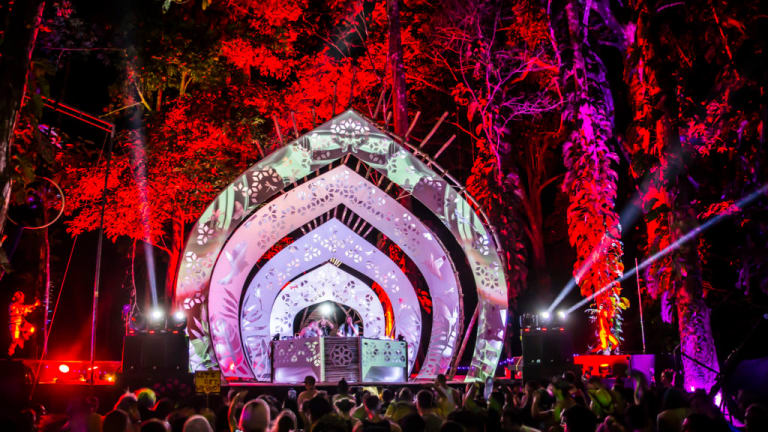 5 Things to Do at Bamboo Bass Festival (That Aren't Music)
Take it from the founder, Shelby Glanville, who's lived in Costa Rica almost eight years.
If bass music is your forte then you're more than likely acquainted with Bamboo Bass Festival. The fourth installment - billed Bass In Paradise - features a lineup of world-class talent. What you may not know is how much more the experience has to offer than DJs alone.
Music aside, Bamboo Bass Festival attendees can also sign up for five different "adventures" - and that's exactly what they are. Between ATVs, ziplines, horseback writing and rapelling, The Park at Ocean Ranch in Jacó, Costa Rica offers much more than your typical festival grounds.
"Costa Rica is a tourist dream with lots of outdoor activities," Bamboo Bass Festival co-founder Shelby Glanville told EDM.com in an email. "I've been living here for almost eight years now so I've got to do most of the activities at least three or four times." He and co-founder Jordy Grant organized the first edition of the gathering in 2016. 
Below are the five adventures that will add dimension to the Bass In Paradise experience next February. For more information on special offer packages, visit the event website.
5. ATV Tour
Festivalgoers will get to explore the terrain of some of the landscapes comprising The Park by participating in the ATV Tour. After covering six kilometers of river bed, the exhilarating excursion will end at the El Encanto (The Enchanted) Waterfall.
4. Zipline Adventure
For those eager to see El Encanto from a different angle, the Zipline Adventure offers a bird's-eye view of the picturesque waterfall. Boasting a double steel cable and pulley system, the attraction offers attendees an opportunity to safely explore tge rainforest canopy as well as the Pacific Coastline.
3. Horseback Riding
The Horseback Riding adventure is for those looking to take in the sights and sounds at a slower pace than the aforementioned excursions. The experience includes numerous stops along the hillside at which festivalgoers will be able to appreciate the landscapes of The Park in all their grandeur.
2. Waterfall Rapelling
Perhaps the most adrenaline-pumping attraction available to Bamboo Bass Festival attendees is the Waterfall Rapelling adventure. Participants will be afforded the photo opportunity of a lifetime from this unique activity.
1. Nature Waterfall Hike
For attendees eager to incorporate exercise other than headbanging into their Bamboo Bass Festival itinerary, the Nature Waterfall Hike adventure is the best option. A "mildly challenging hike" to the Cataratas Gemelas (Twin Waterfalls), the excursion offers an immersion in nature unlike any you've likely experienced.
Get your tickets to Bamboo Bass Festival: Bass In Paradise today!
FOLLOW BAMBOO BASS FESTIVAL:
Website: https://www.bamboobassfestival.com
Facebook: https://www.facebook.com/bamboobassfestival
Instagram: https://www.instagram.com/bamboofestival