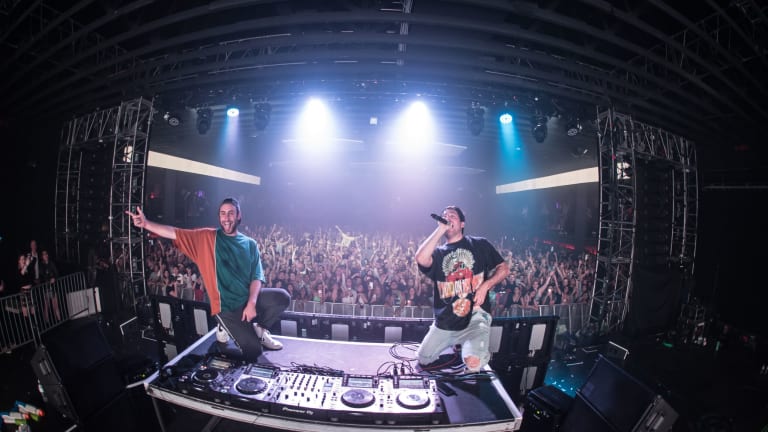 5 Things You Missed at this Year's Clubhouse Fest at Echostage in Washington, D.C.
Echostage more than lived up to its reputation as one of the top nightclubs in North America.
If you missed Clubhouse Fest at Echostage in Washington, D.C. this past weekend, we can confirm that your FOMO was indeed justified. Here are the top 5 things you missed from this epic party with Rezz, Madeon, Two Friends, Alan Walker, Elephante, Rich DietZ and Packline.
#5 - Rich DietZ Warm Things Up
East Coast DJ duo Rich DietZ heated things up quickly with a perfect blend of underground tech house and festival bass, flavored with a dash of old school hip-hop. Make sure to keep an eye out for them as the word on the street is that they will be taking 2020 by storm.
#4 - Two Friends and Elephante Battle it Out in Beer Pong
Elephante marched into the building and shot the energy through the roof. His raw, high-energy style immediately took over and had everybody in a trance-like state with their fists in the air.
Two Friends kept the stampede going with their undeniable stage presence and fantastic song selection, which comprised a diverse range of classics that warmed up the vocal cords with recognizable mashups.
After their sets, Two Friends and Elephante decided to turn the dial even more and faced off in an intense game of beer pong to determine the true king of the jungle
#3 - Madeon Returns to Echostage
Madeon's first return to Echostage since 2015 showcased a ton of new music, and between him and Alan Walker, it's safe to say that the audience received a blast of nostalgia while also witnessing a glimpse into the future of EDM. Ethereal melodies, bone-chilling vocals, thick percussion, and driving rhythm took people to new heights - and most likely kept them there for the days to follow.
#2 - Free Extra Rezz
Rezz proved yet again that she is the ultimate puppet master as she extended her mass manipulation and performed for an extra 30 minutes. Her ghostly sounds crawled through the ears and into the head and began to control every move; it was impossible not to let those mysterious eyes draw you in. Her otherworldly visuals were the perfect backdrop for her supernatural music as she took everyone down a rabbit hole of tranquil darkness. We promise you don't want to miss her return to Echostage for EchoThon on December 26th alongside fellow mau5trap alumnus i_o.
#1 - Echostage
Clubhouse Fest moved this year from Laurel Park Race Track in Maryland to Echostage in Washington, D.C. and the change proved to be an amazing experience for all who came to witness such a monster lineup hit the Echostage. Ranked as the #1 US nightclub by DJ Mag last year, the capital city's largest nightclub did not disappoint. Check Echostage.com to keep an eye out for more epic upcoming events.
FOLLOW ECHOSTAGE:
Website: echostage.com
Facebook: facebook.com/Echostage
Instagram: instagram.com/echostagedc
Twitter: twitter.com/echostage