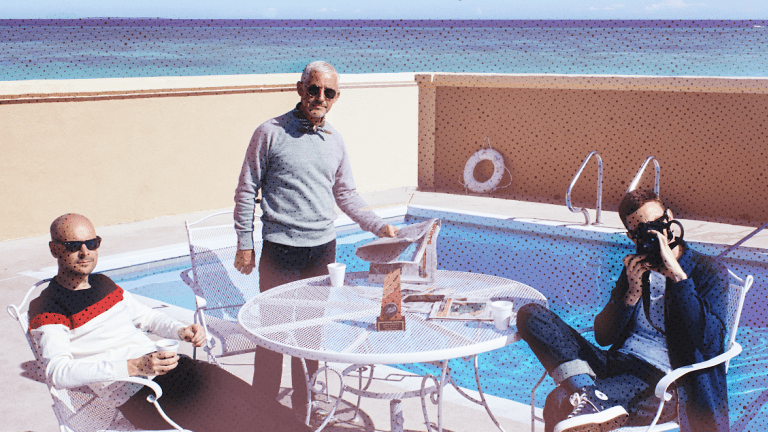 Full Lineup for Above & Beyond's Miami Music Week Show at RC Cola Plant Announced
Seven Lions, Spencer Brown, and other Anjunabeats favorites join the party.
On Thursday, March 28th, Anjunabeats label heads Above & Beyond will hit the RC Cola Plant for Miami Music Week once again. The trio have just announced that a slew of Anjunabeats all stars and up-and-comers will be joining them for the big show.
Special guest and crowd favorite Seven Lions was already previously announced for the show, to the delight of many diehard Anjunabeats fans. Joining him will be label veteran Oliver Smith, who just released his latest single "Solina" in January. Smith has been releasing music on Anjunabeats since the label's inception and has proven to be a fan favorite time and time again. 
Spencer Brown, another Anjunabeats mainstay, will also be featured. Brown released his debut album, Illusion Of Perfection on Anjunabeats back in 2018, along with a collaboration with Above & Beyond, entitled "Long Way From Home" featuring RBBTS. The San Francisco talent will bring plenty of recent releases, and possibly even some new unreleased tunes to the table at RC Cola Plant. 
In addition to Smith and Brown, two artists from sister label Anjunadeep will be featured for the Miami Music Week showcase. Ben Böhmer will be performing a brand new live set. Böhmer had two tracks featured on this year's Anjunadeep 10 compilation. "Little Lights" rounds out disc one of the compilation on a downtempo electronica kick, and "In Memoriam" brings a broody, deep progressive mood to the second disc. Both tracks will undoubtedly be featured in Böhmer's live set.
Rounding out the lineup is label newcomer Qrion, who recently had her first Anjunadeep track released as part of the Anjunadeep 10 compilation. "Sapporo," a collaborative effort with Spencer Brown, adds a distinct, darkly melodic touch to disc one of the album. Qrion's deep and atmospheric style will provide the perfect opening set for the night.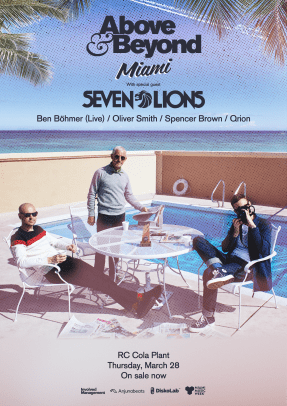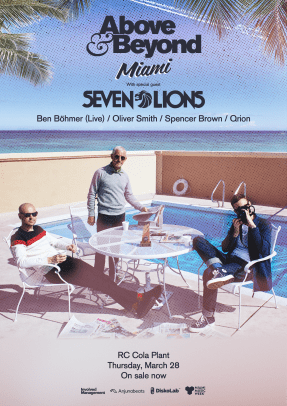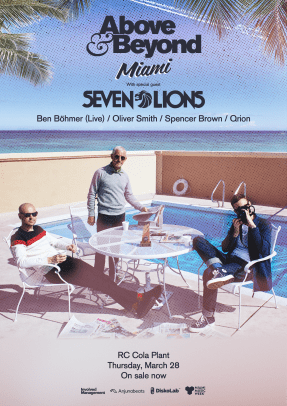 Anjunaholics will certainly be pleased with this full lineup announcement. Covering everything from deep house to progressive trance to whatever Seven Lions has up his sleeve, this night will properly showcase everything that Anjunabeats and Anjunadeep have to offer. The RC Cola Plant show comes just ahead of two other label events for Miami Music week, with Anjunadeep Open Air: Miami on March 30th, and a show at the Delano Beach Club on March 31st. 
Jono, Paavo, and Tony's next release, "There's Only You", will come just in time for the RC Cola Plant showcase. The track completes the Common Ground Companion EP, which was released as an accompaniment to their #3 Billboard Top 100 album, Common Ground. Above & Beyond's recent collaboration with fellow trance legend Armin van Buuren titled "Show Me Love" has already been igniting dance floors worldwide as well, and will likely be a massive hit at Miami Music Week. 
Tickets for Above & Beyond's Miami Music Week showcase at RC Cola Plant are available now, and can be purchased here.
Follow Above & Beyond:
Facebook: facebook.com/aboveandbeyond
Twitter: twitter.com/aboveandbeyond
Instagram: instagram.com/aboveandbeyond
SoundCloud: soundcloud.com/aboveandbeyond

Follow Anjunabeats:
Facebook: facebook.com/anjunabeats
Twitter: twitter.com/anjunabeats
Instagram: instagram.com/anjunabeats
SoundCloud: soundcloud.com/anjunabeats