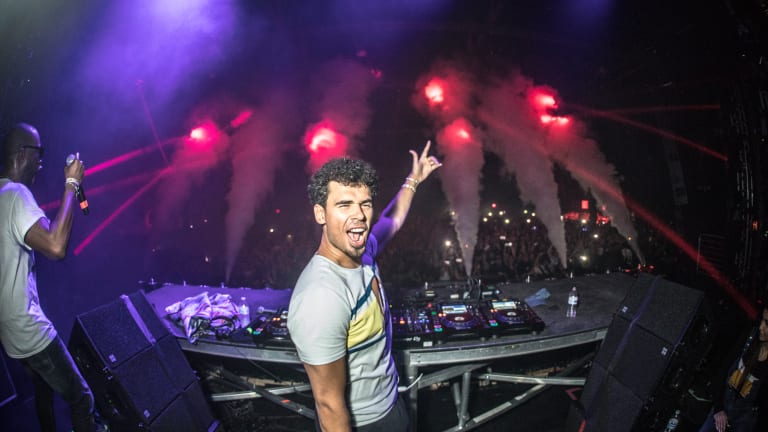 Afrojack's Sold-Out NYC Show Was a Much Needed Nostalgic Trip [Interview]
Afrojack may have played a lot of throwbacks, but he also revealed a new track ahead of Ultra.
Co-written with Nisha Stickles
Grammy-award winning artist Nick van de Wall, better known as Afrojack, headlined his first concert at Brooklyn's Avant Gardner this past Saturday. And before the show, EDM.com had the opportunity to catch up with the Dutch DJ phenomenon and talk about what goes into his live performances. 
EDM.com: Last year, you were on an immense tour from early October until late December briefly after releasing your EP Press Play. After playing such a long stint, how does it feel to be touring so soon again? Do you do anything to recharge and get yourself psyched for all of the constant traveling and back-to-back shows?
Afrojack: As a DJ (if you love what you do), you're basically on tour always. These days I only do the shows and venues I like, and I have been more focused on building LDH, growing the WALL Recordings artists, and spending time in the studio. If you follow me on socials you can see how I keep it fun and easy with private jets and custom Playstation suitcases, big tour buses and nice hotels, but the most important thing that keeps me going is my team. Wherever we go, MC Ambush, cameraman Frits, tour manager Sam, and sometimes some of the WALL artists, are all like family to me. I don't think I'd ever be able to continue touring if I wasn't surrounded by friends all the time.
You've been headlining concerts for years now. Are there any differences to preparing for a huge set, like that at the Ultra Music Festival?
The fan experience is the #1 priority. The production team, the local promoters and I are always focused on setting up the most fun and surprising experience when preparing for something like Ultra where the set is broadcasted and serves as a signature for your brand. You're not just playing for the people on the dance floor, but also millions of people around the world, and you're making your name for the coming year. So for a set, we all prepare two or three months in advance, new records, new party tricks, and new production parts. It's the start of the season.
Talking about big festivals like Ultra and AMF, how do you go about choosing the music for those as compared to a show at a small venue? Are there factors like location that come into play? 
Nighttime, daytime, roof or no roof, back wall or no back wall makes a very big difference in acoustics. Some music might sound great in an underground warehouse with high ceilings and cement walls amplifying every click, but that same record might sound flat in an open area.
So when it comes to playing at this venue, are there any specific songs you're excited to play for the NYC crowd? 
"Take Over Control" since it's born in NYC, first time on the radio, the label is out there, and my first U.S. fans started from there. "The Spark" is the same story. And, of course, I'll play some new IDs too, as New Yorkers are always ready for something new.
For those of you who missed Afrojack's sold-out show at Avant Gardner, it was as epic as ever and possibly even more so.
Liquid Todd, Wall Recordings artist Chico Rose, and trap king Grandtheft warmed up the crowd and set the mood for the night. By the time Afrojack took the stage, everyone was ready to hear some throwbacks and whatever else he had in store for them.
At the start of his set, an Afrojack graphic montage filled the screens and the venue was bathed in red and white light beams. A voice echoed, "This is my city," and fans went wild upon seeing the Dutch DJ pop up from the booth and greet the crowd. However, the party didn't start until a massive beat finally dropped and streams of CO2 blasted from cannons at the foot of the stage.
With his combination of trap, big room and electro house tracks, Afrojack's hour-and-a-half set was a nostalgic trip back to the 2011-2014 era of electronic dance music. He played remixes and mashups of radio hits like Calvin Harris' "How Deep is Your Love," Dua Lipa's "One Kiss," Post Malone's "Congratulations" and Ke$ha's "Tik Tok" to name a few. 
Of course Afrojack also played some of his own hits like "Ten Feet Tall," "SummerThing!," "Lost" and "The Spark." He also included some throwbacks to his early days with "Turn Up The Speakers" and "Take Over Control." 
What made it all the more entertaining and unlike other DJs who play their own tracks, is that each of these songs weren't actually played in their entirety. They were all part of a mashup with some throwback like Eurythmics' "Sweet Dreams," Dr. Dre's "The Next Episode," the Yeah Yeah Yeahs' "Heads Will Roll," and Belinda Carlisle's "Heaven Is a Place On Earth."
Though old festival favorites and anthems from Swedish House Mafia, Alesso, Avicii and David Guetta played a huge part in hyping up the crowd, MC Ambush and Afrojack's contagious energy combined with the grungy text graphics flashing messages like, "make some noise" and "hands up," also greatly added to it. 
Quite a few times, MC Ambush had fans chanting, "Aye oh," while moving in sync to his raised arm, while Afrojack encouraged them to sing along to some of their favorites by turning down the music when the chorus hit. During the last mashup of his set, which was fittingly Daft Punk's "One More Time" and his "Ten Feet Tall," the Dutch DJ went along the front of the stage, reached his hand out to fans and got them to dance along in a last hurrah. 
After he finished his set, the crowd immediately shouted for an encore. For a good minute or two Afrojack looked out at the packed warehouse taking in the moment and then, despite saying he was supposed to end his set twenty minutes ago, he gave the people exactly what they wanted. 
He played a seemingly acoustic version of Avicii's "Wake Me Up" and weaved it together with Swedish House Mafia's "Don't You Worry Child." As white confetti rained down on all of his fans, it was the perfect bittersweet ending to his nostalgic set. 
Though the tail end of his set was pretty great, the biggest highlight of the show was when Afrojack brought Chico Rose out onto the stage and played their latest collaboration in its entirety. It was supposedly planned to premiere at Ultra later this year, but, as he promised, Afrojack let New Yorkers be the first to listen to his latest banger.
As for other new releases he told us that a "new album is coming and new EPs from the WALL artists" and that he'll keep everyone posted through social media.
Follow Afrojack:
Website: afrojack.com  
Facebook: facebook.com/djafrojack
Twitter: twitter.com/afrojack
Instagram: @afrojack
Soundcloud: soundcloud.com/afrojack