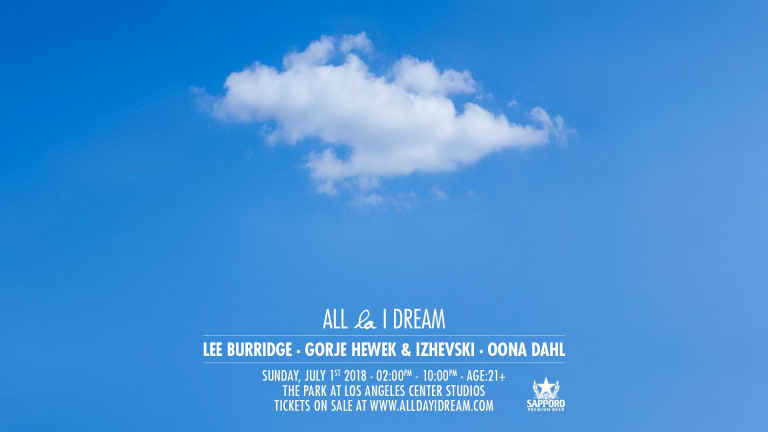 All L.A. I Dream with Lee Burridge and Friends
This is going to be one for the books!
On July 1st, Lee Burridge's iconic open-air gathering, All Day I Dream, will make its way to Los Angeles for the weekend. Over the past 8 years, the event has evolved from a small monthly gathering into a worldwide movement, with thousands around of enthusiasts from every corner of the globe enchanted by the roller coaster, journey-like quality of Burridge's sets.
All Day I Dream has charmed its international family of friendly, open-minded souls in some of the world's most gorgeous venues as well as stark cityscapes. With each event rooted in All Day I Dream singular aesthetic and artistic designs it garners new eccentric party nomads as it goes. All Day I Dream is where structural art and free-flowing spirits unite under floating decorations to the melodic spell of All Day I Dream's cast of musical masters.
In 2018, All Day I Dream has expanded to more than 50 shows in 20 countries around the planet. Highlights this year include multiple Summer Residency dates in Ibiza and Mykonos, taking place on the beach at Blue Marlin and Scorpio's. Dubai's winter sun season closed out in March leading neatly into Miami Music Week and a stage at Brazil's Warung Beach Club Festival. London hosts three dates in 2018 while  In the USA New York, Los Angeles and San Francisco continue to host their regular Summer season of events while Toronto, Montreal Chicago, Miami, Detroit, Las Vegas and more entertain single one-offs. New locations include Istanbul, Iceland, and Turkey.
Gorje & Izhevski and Oona Dahl will be joining Lee for the Los Angeles stop of the tour this weekend, be sure to get tickets below before it's too late. 
Also be sure to check out Lee's new EP titled 'Elongi' that was recently released on his 'All Day I Dream' label.
https://open.spotify.com/album/7bm1Exc5Jf0QLUw60HeM8X
For More Info and Tickets to All Day I Dream's 2018 World Tour Visit:
Connect With All Day I Dream:
https://soundcloud.com/alldayidream
https://www.facebook.com/alldayidream/
https://twitter.com/AllDayIDreamOf
https://www.instagram.com/alldayidreamintheclouds/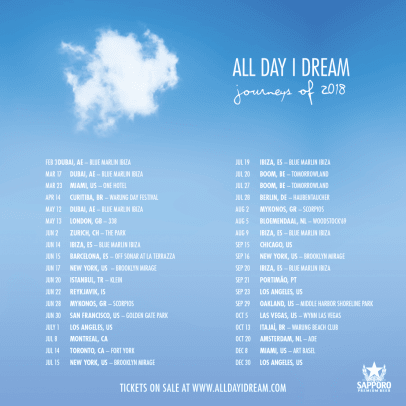 All Day I Dream 2018 'Journeys of 2018' World Tour Dates:
June 30 - San Francisco's - Golden Gate Park
July 1 - Los Angeles, US
Jul 8 - Montreal, CA
July 14 - Toronto, CA - Fort York
Jul 15 - New York, US - Brooklyn Mirage
Jul 19 - Ibiza, ES - Blue Marlin Ibiza
Jul 20 - Boom, BE - Tomorrowland
Jul 27 - Boom, BE - Tomorrowland
Jul 28 - Berlin, DE - Haubentaucher
Aug 2 - Mykonos, GR - Skorpios
Aug 5 - Bloemendaal, NL - Woodstock'69
Aug 9 - Ibiza, ES - Blue Marlin Ibiza
Sep 15 - Chicago, US
Sep 16 - New York, US - Brooklyn Mirage
Sept 20 - Ibiza, ES - Blue Marlin Ibiza
Sep 21 - Portimao, PT
Sep 23 - Los Angeles, US
Sep 29 - Oakland, US - Middle Harbor Shoreline Park
Oct 5 - Las Vegas, US - Wynn Las Vegas
Oct 13 - Itajaí, BR - Warung Beach Club
Oct 20 - Amsterdam NL - ADE
Dec 8 - Miami, US - Art Basel
Dec 30 - Los Angeles, US