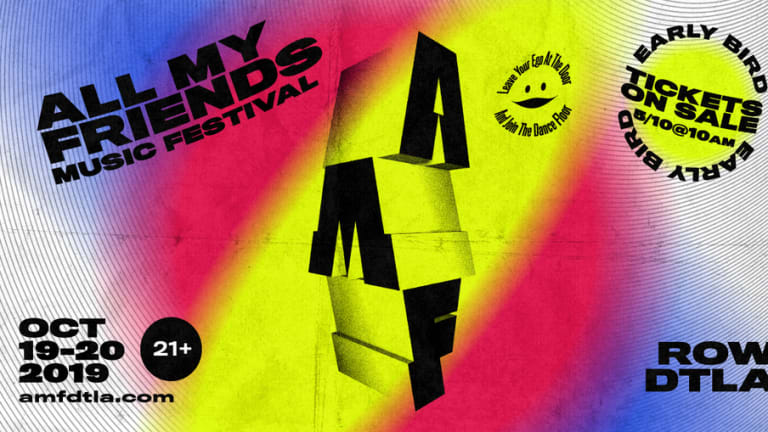 All My Friends to Return to Downtown Los Angeles in 2019
The second annual event will take place this October.
After a successful inaugural event, LiveStyle, Inc. has announced the return of All My Friends Music Festival to Downtown Los Angeles. Situated within The Row DTLA, the creative office space and shopping center will once again welcome thousands of fans of electronic music and hip-hop alike.
The festival made its debut last August and is the brainchild of Gary Richards (aka DESTRUCTO). After parting ways with HARD Events Richards partnered with LiveStyle, presenting a new music festival to the city of angels.
The unique setting, fixed upon tall warehouse buildings amid an industrial environment, positions the festival as a haven for the fans of the old-school underground vibes. Stationed on the outskirts of Downtown L.A.'s Arts District, the century-old collection of warehouse buildings have been repurposed and create a rare backdrop for dance festivals.
Last year's debut brought out over 20,000 fans who were treated to acts like Chris Lake, RL GRIME, Gucci Mane, Jhene Aiko, M.I.A., Jamie XX, and Armand van Helden across three different stages. The eclectic offering of artists allows the festival to succeed amid the vast musical tastes of Southern California ravers.
All My Friends Music Festival takes place Saturday, October 19th and Sunday, October 20th, 2019. Early bird tickets go on sale Friday, May 10th, 2019 at 10:00 AM. Get yours here.
FOLLOW ALL MY FRIENDS:
Facebook: facebook.com/AMFAMFAMF
Twitter: twitter.com/amfamfamf
Instagram: instagram.com/amfamfamf