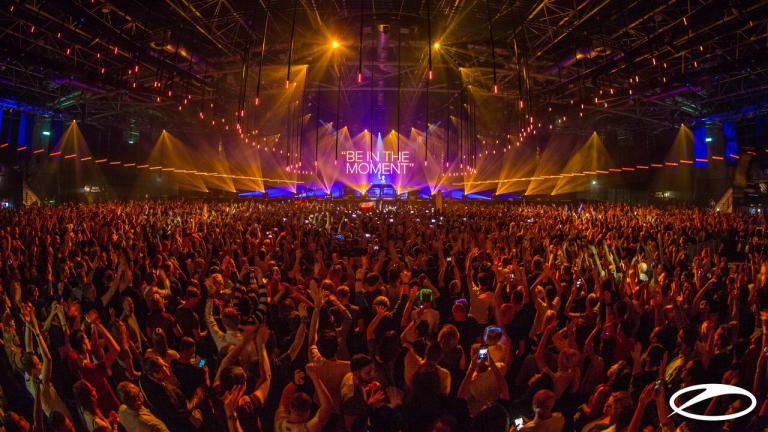 ASOT Utrecht Proves to be the Mecca for Every Trance Fan [REVIEW]
What makes A State of Trance the highlight for Trance fans all around the world?
Each and every year the A State of Trance festival in the Netherlands is the musical highlight for Trance fans all around the world. Last Saturday, 32,000 people from over 90 (!) countries joined one of the 5 stages in the Jaarbeurs in Utrecht, and shared their love for Trance music. EDM.com joined the party to discover why Armin's celebration party has been this popular for 8 years straight.
Back to 500 in Den Bosch
After hosting smaller celebration events in Rotterdam, Toronto, New York and more, ASOT 500 in Den Bosch was the first major celebration event. On no less than 5 stages, Armin was joined by Above & Beyond, Arty, Paul Oakenfold, Cosmic Gate, Aly & Fila, Rank 1 and 34 other acts we still regularly hear in his weekly radio show. 
Since 2011, each edition dedicated a smaller stage to the future of Trance music, which features producers that can be expected to fill the radio shows in its road to episode 1000. Artists like MarLo, Orjan Nilsen, Sneijder and David Gravell all started on such stages several years ago, while now playing the big ones all around the world.
Talking about the big stages, Gareth Emery and W&W (with their NWYR alias) both played the main stage on the 500 edition as well as last weekend. It indicates both the greatness of these artists, as well as the ability to innovate and diversify from the ASOT festival. This year's mainstage also featured established talents by the likes of Ilan Bluestone, David Gravell, and Ben Nicky. However, everyone that visited the event before, knows that it is so much more than just the mainstage you see on the video screen. Especially this edition.
ASOT suits all tastes
The main stage is by far the biggest stage, it features the most epic visuals on the festival, and it is the only stage Armin performs his sets. Since his two-hour set is mostly considered the highlight of the night, the main stage is usually being closed 45 minutes in advance for the people inside to still be able to move while they get ready in anticipation. Despite all this, lots of people still choose to avoid the main stage and its more commercial sound altogether, to stick with the stage of their beloved Trance style. 
The Who's Afraid Of 138 stage is one for the addicts that like their Trance pure and banging, by getting uplifted by acts like Solarstone, Chris Schweizer B2B Heatbeat, John O'Callaghan, and Bryan Kearney. These last two giants were playing the same timeslot as Armin, which does not give room for diehard 138 fan to doubt whether he or she should leave for the mainstage.
The same applies to the Psy-Trance stage, which featured the legend Neelix and Liquid Soul at that same slot, followed by an absolutely smacking set from Ace Ventura. Since Psy left the underground to pop up on the major Trance festivals and radio shows last year, it deserved the awesome stage they got at ASOT this year. Despite it is the festival's third stage, the production was on point and featured everything to take you into another dimension. With also adding the first ever Progressive stage to the festival, ASOT manages to present the crème de la crème out of every sub-genre.
The diverse Trance community
Besides having a variety of Trance styles, ASOT also features a diversity of nationalities and ages. From one moment to the next you can land in a conversation with an 18-year-old Spaniard who just discovered the beauty of Trance, to a fifty-year-old from Canada on how he visited Trance parties at the time the Spaniard was still walking in diapers. 
Worldwide, The Netherlands is known for being the birthplace of mainstream Trance music since the late 90's, by the likes of Ferry Corsten, Tiësto and of course Armin himself. Many Dutchies that were clubbing twenty years ago are revisiting these Trance events to take a nostalgic trip down memory lane. For these seasoned veterans, it's a chance to reminisce about evenings spent at Trance Energy, which was the main indoor event at that time, hosted in the same venue ASOT is currently taking place.
Yet it certainly doesn't look like an elderly party. Even though his career already takes twenty years, Armin is still extremely relevant to the younger EDM crowd. Therefore more and more youngsters are attending the event as well, discovering new artists and styles. The spectrum of fan generations also allows foreigners join the celebrations, without having to doubt their age. This often leads to great talks on our shared love for Trance music. Together this blend of nationalities and experience leads to a great atmosphere where everyone grants each other an amazing time.
It's All About Love
A State of Trance Utrecht is still able to present its fans a diversity of artists and Trance sounds, a great atmosphere with people from all ages and corners of the world, and amazing production across all stages. This combination means that the event can be seen as an event that every Trance lover and open-minded EDM fan should visit at least once in their lives. It's safe to say that A State of Trance Utrecht is the Mecca for Trance music.
Do you want to relive nine hours of mainstage madness or listen to other sets? Check out the YouTube and Soundcloud links below. 
Airwave: 
Allen Watts:
Bryan Kearney:
Chris Schweizer B2B Heatbeat:
Davey Asprey:
John Askew: 
John O'Callaghan: 
Jorn van Deynhoven: 
Max Meyer:
Radion6: 
Roman Messer:
Shinovi: 
THNK: