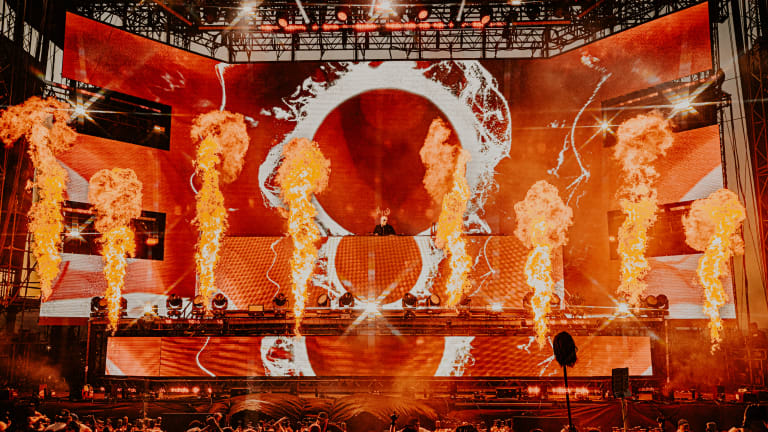 Excision's Second Annual Bass Canyon Was One for the Ages [REVIEW]
Trust us, you don't want to miss any events Excision hosts.
Excision (real name Jeff Abel) has consistently pushed the boundaries of bass music since the inception of his project in 2006. Beginning in 2017, however, he's taken that innovation to the festival game, hosting two of the most prominent bass-focused festivals out there: Lost Lands and Bass Canyon. This year, we traveled to the Gorge Amphitheatre to see just how impressive the second iteration of Bass Canyon would be. 
As most would assume, Bass Canyon was nothing less than phenomenal. Lasting for three days and four nights, every moment of the festival was jampacked with monumental activities. From the beautiful venue to the killer lineup to the amazing attendees, Abel has proven time and time again that he can curate events fans are dying to return to year after year.
The Gorge Amphitheatre is one of the best places to throw a camping festival and Abel has zeroed in on that. Just like other festivals that take place at the Gorge, the camping is divided up into four sections: general admission, premier, terrace, and gold. While the latter three included luxurious amenities like free showers and closer access to the venue, GA was right next to morning yoga instructed by Scott Winslow and a campground silent disco hosted by Seattle-based Bass Therapy. Yoga was an excellent way to start each day, allowing fans to center and prepare themselves for the madness to come. Bass Therapy specializes in keeping the party going and did so each night with sets ending around 5 am.
In true Excision fashion, the festival kicked off with a pre-party on day zero. Fans were able to enter the venue around 6:30, allowing enough time for them to set up camp and prepare themselves to rage the night away. A stage was built near the venue entrance as to keep the first set at the mainstage as fresh as possible. Many artists showed up early to participate in the first massive back to back set of the weekend. This included 12th Planet, Calcium, Dion Timmer, Dubloadz, G-Rex, Kai Wachi, LSDREAM, Sullivan King, HE$H, and YOOKiE.
The music at Bass Canyon surpassed all expectations, with Abel himself curating a world-class lineup of bass music that drew in fans from all around the globe. The Gorge was decimated by hard-hitting bass for three days straight, with huge sets from SVDDEN DEATH, Liquid Stranger and his Wakaan Takeover featuring Lucii, Champagne Drip, and LSDREAM, Ganja White Night, Subtronics, Downlink, TRAMPA, and Flux Pavilion as well as up-and-comers, Midnight Tyrannosaurus, Kompany, and Marauda (formally known as Mastadon). 
Abel brought out a handful of some of the most innovative newcomers to tear up the stage and perform back to back with him to close out the festival. Lasting an hour and twenty minutes, each artist had 10 minutes to show off their freshest tunes. The massive set included Circus Records mainstay Jessica Audiffred, sound design maestro TYNAN, UK legend Chime, frequent Bassnectar collaborator Jantsen, dubstep favorite UBUR, newcomer Calcium, and trap duo YOOKiE. 
Abel strayed away from popular festival amenities like carnival rides and managed to bring two extremely interesting pieces to attendees: The SAMSKARA 360 Dome that includes the mind-bending art of Android Jones and the Space Dome curated by Seattle-based WAVES Presents and Bass Therapy.
The SAMSKARA 360 Dome is an experience like no other. Android Jones delivers some of the most visually stunning pieces on the planet and this project is no different. Lasting roughly twenty minutes, the SAMSKARA 360 Dome immerses festival-goers into a sensory-stimulating environment that's completely unimaginable. While we didn't take any pictures inside the dome, you can check out the preview Abel posted on his Twitter below: 
The Space Dome acted as a second stage, hosting some of the best local talent in the Pacific Northwest. Among those performing were Bass Therapy's own SoSleepyy, WAVES's Quackson, and Portland's Hal-V & Spacecase. While the dome was vastly smaller than the mainstage and held sets during some of the biggest acts of the festival, it was consistently packed each night.
While Lost Lands is larger than life, Bass Canyon holds it's own as an easily comparable event and is a perfect option for headbangers living on the west coast. Undoubtedly, Abel has created two of the best festivals in the country with an unwavering and loyal fanbase and a place each fan can call home. Those who believe that three days of bass music may be too much for them should reconsider, as the diversity and balance were just as well done as any other festival. As 12th Planet might suggest, hesitant fans should "send it" as soon as they get the chance. 
FOLLOW EXCISION:
Facebook: facebook.com/Excision/
Instagram: instagram.com/excisionofficial/
Twitter: twitter.com/Excision
SoundCloud: soundcloud.com/excision
FOLLOW BASS CANYON:
Website: basscanyon.com
Facebook: facebook.com/BassCanyon
Instagram: instagram.com/BassCanyon
Twitter: twitter.com/BassCanyon