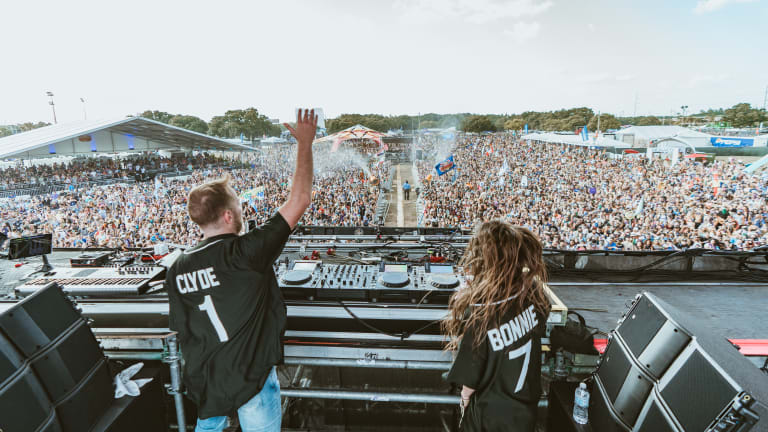 [Criminal Mischief] BONNIE X CLYDE Pre-Release Party Gets ROWDY
The dynamic duo reprise the antics of their infamous Sunset Music Festival house-party for massive pre-release extravaganza
After a long and hot Saturday of festival-style performances from The Alchemy Tour kick-off show featuring Gud Vibrations (NGHTMRE b2b Slander), Seven Lions, The Glitch Mob, and Svdden Death, your average showgoer might decide to turn in and call it a day. Instead, fellow Prodigy Artists artist BONNIE X CLYDE threw one of the biggest afterparties Los Angeles has seen in months.
The dynamic duo opened up their home for a massive pre-release party for their upcoming single "Bad Behavior." Expected to drop in September, the Ultra Music single made its world debut at their headlining Moonrise Festival set in Baltimore earlier this month. 
Hundreds of LA's finest were invited to the event, which turned out to be a rager that continued well into Sunday morning. Attendees witnessed a range of top-tier celebrity appearances from the likes of Chuck Liddell and Blake Webber, as well as surprise musical guests like Slander. To top off the night, the pair performed their new record "Bad Behavior" live, the perfect prelude to its upcoming official release.
Allegedly, the police showed up to shut the party down early Sunday morning, which seems to be a recurring theme for the duo - a clear testament to the infamous criminal couple that is their namesake. Unlike the notorious bank robbers, however, BONNIE X CLYDE have committed no crimes, aside from a bit of musical mischief.
FOLLOW BONNIE X CLYDE:
Facebook: facebook.com/bonniexclydeofficial
Instagram: instagram.com/bonniexclydedj
Twitter: twitter.com/BONNIEXCLYDE
SoundCloud: soundcloud.com/bonniexclydeofficial