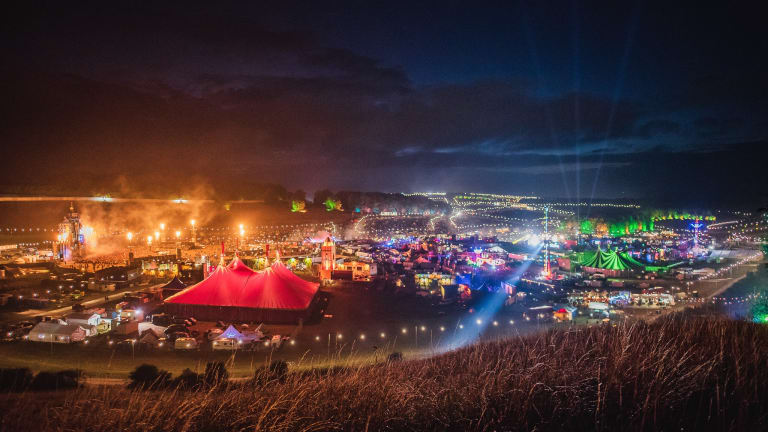 Boomtown 2018: The Immersive Festival City (Review)
From making up hotel reservations, to convicting criminals and taking on the role of a detective - Boomtown was more than just a music festival experience.
Every now and then a music festival goes beyond the realms of its supposed capabilities - producing a display of not only good music, but successfully crafting an immersive world, one that tricks you into believing life outside of the festival walls is non-existent. Introducing Boomtown - the interactive city where you can go from being a high roller in a casino, to slumming it out conversing with prisoners and seeking work in the job centre.
Celebrating its tenth anniversary, this year's festival represented one of the whackiest, weirdest and most wonderful festival experiences you could imagine, as Boomtown pulled out all the stops to wave goodbye to Chapter 10, in the process closing a decade-long storyline.
This year saw headline showings from Limp Bizkit, Die Antwoord and a phenomenal Saturday night performance from Gorillaz. However, despite having huge headliners, what made Boomtown a truly unique experience was the brilliant set design, infectious theatrics and the endless amount of small details leading to a bizarre five days.
After last year's issues with long queues and overcrowding, Boomtown introduced an earlier festival start day on the Wednesday. With only the west side of the city open, this eased congestion and allowed for a more pleasant entry experience.
Another interesting addition to Chapter 10 was Boomtown Springs - a theatrical camping experience in a tucked away paradise, where the residents were made to feel like they were part of a secret community.
Run by an army of actors, it felt like we had entered into a dream-like parallel world, where this gated suburban community knew no life outside of the walls. The actors stayed in character all festival, and the conversations they would initiate with you left you feeling bemused.
On arrival, the actors clapped us in saying 'good job, you made it', then demanded they take our bags whilst we sat down to enjoy a glass of champagne. This place felt surreal - with an announcer informing the residents about the activities each day, people walking around in velvet robes, plus a swimming pool and a mansion that both hosted parties.
Thursday was the day everything kicked off at the festival, allowing everyone to explore the different areas. From raving to psy-trance in the psychedelic forest, which was decorated with colourful lights and comfy pod chairs, to exploring Old Town and listening to disco in Grandma's living room with Grandma as the bouncer. There was a district for everyone to enjoy and explore, making the experience diverse and spontaneous.
The Hidden Woods were particularly bustling throughout Thursday. Decked out with a sandy floor, colourful lanterns and tree-top walks, this area became a secluded paradise - one embodying the vibe of a pop up illegal rave deep in the forest.
The music seemed to follow a similar pattern all day - starting with chilled reggae courtesy of Mungo's Hi Fi, but progressing into thumping drum and bass with the likes of Liam Monaghan's Reggae, Roots and Bass and Run Tingz Cru.
With the main acts not starting until the following day, it meant Thursday could be spent exploring the festival site and all the hedonistic, strange experiences Boomtown is renowned for. As good as the line-up is, what makes the festival unique is the small quirks and peculiar encounters you stumble across.
Whether it was witnessing 'Gary Glitter' on trial in Copper County, followed by him being sponged in a stock for his sins, the inconvenience store where they do just about everything to make your shopping experience a nightmare, or Dubtendo - the tiny stage designed like a Gameboy, where you could either watch Mario and Luigi on the decks or play a game of Mario Kart.
Over the years, Boomtown has developed a sparkling reputation for the way it puts theatrical performances at the forefront of its operations, creating an out-of-world festival experience unlike any other. From the minute you entered the site, you were a part of the city's theatric narrative. This made wandering the various districts a hilarious adventure filled with captivating surprises.
One of the most memorable theatrical displays came courtesy of Hotel Paradiso - a destination billed as '5 star pleasure for 5 star people'. Run by American sounding actors and styled like a beach club, this hotel experience was a fictitious one where you could make up a reservation and the actors would go along with it. I don't think I've ever been greeted by a receptionist lying on the desk in a seductive pose, but maybe I haven't been staying in the right hotels?
Some of our group put their policy to the test and complained about their 'poor honeymoon suite' - resulting in the receptionist calling his manager and directing the couple to a new bed - proceeding to kick out the previous couple.
Aside from the receptionists, the hotel had various amenities that made it even whackier - from a bath where people were showered in money, to a table football and tennis table where a mass tournament broke out and the finalists were dressed in kings robes and rewarded with a shot of gin & juice.  
After the weirdness of Thursday, Friday presented a more familiar schedule with the main music acts starting. DJ Marky, Denis Sulta, Chris Lorenzo, Ed Rush, & Optical, Zed Bias - there was an expansive range of high profile acts to mull over.
But it was the Lion's Den that seemingly had everyone at the festival salivating in the afternoon with the prospect of the midday opening show, followed by Shy FX and Boomtown favorites Jungle Cakes.
With hordes of people streaming to the stunning castle-like stage, it was clear everyone was dreaming of reggae and jungle music against a shimmering blue sky backdrop - where if you closed your eyes, you could envisage yourself on a sandy beach with a Piña Colada in hand. This was not that dream…
Standing watching with a warm can of cider, as Shy FX waved goodbye to the crowd the dense black clouds swamped the sky, lashing down continuous bursts of torrential rain that reduced the bowl-shaped stage to a mud pit, with streams of water gushing from the top - an ironic mirror image of the waterfalls either side of the stage.
With people flooding from the crowd as Benny Page kicked off the Jungle Cakes Takeover, it looked set to be a complete washout. But the rain did not deter everyone. Due to the group's loyal Boomtown following, the hardcore fans remained and embraced the dire conditions to be a part of one of the most incredible experiences in Boomtown's history. 
There were people dancing topless, in bare feet, and even wiping mud on each other's faces. The crowd loved every minute of the jump up infused jungle madness and repeatedly showed defiance through chanting 'Fu** the rain'.
As day turned to night, attention turned to Bang Hai Towers and Sector 6, two of Boomtown's most impressive stage productions. Sector 6 was particularly impressive, with a heavy drum and bass line-up featuring DJ Marky, Ed Rush & Optical, LTJ Bukem and Clipz. Designed like an abandoned power station, Sector 6 represented a true production behemoth - with ferocious pyrotechnics and mesmerizing laser displays.
Friday night at Sector 6 created one of the best atmospheres of the festival, with people skanking holding stalks of sweetcorn from the neighboring fields, to smoke flares being set off and Goldie running on stage with Marky to hype the crowd and rewind the music.
As the weekend came around, yet again hordes of people were streaming across the festival site in the afternoon. But this time Bang Hai Towers was the destination, with d'n'b supergroup Kings of The Rollers opening the stage for the Hospital Records Takeover. Within minutes of starting, thousands had packed the arena from front to back for what was another soaking wet outing. Inflatable cricket bats, exclusive VIPs, and Inja on the mic - Kings of The Rollers got the party in full swing, literally.
Elsewhere in the afternoon, top picks included Idris Elba drawing a mass crowd at techno and house haven Pagoda Plaza, whilst Rinse FM host Uncle Dugs played everything from 80-90's dancehall to 93-96 jungle in Tangled Roots - another sandy forest with one of the fattest sound systems of the festival.
Aside from the music and the random theatrical displays, there was another side of Boomtown to explore - the overarching storyline. Centered around the character of Nickolas Boom, throughout the years the story has resembled the dramatic growth of the city.
This year signaled the climatic finale, where the city had been sent into a frenzy over the apparent return of Nickolas Boom. At times it felt like we were on a quest trying to work out what was going on - seeking clues in the Daily Rag newspaper regarding which districts to visit, followed by interacting with characters to unlock information.
After failing to decipher what was going on, we gave up and turned our attention to a star-studded Saturday night line-up, with DJ Q and Crucast on Sector 6, Micky Finn b2b Aphrodite on Robotika, and Dusky at Pagoda Plaza.
But it was Gorillaz taking to the Lion's Den that drew arguably the biggest crowd of the festival, with people sprawling all the way to the back fence. With awe-inspiring visuals, special guests and even a video appearance from Snoop Dogg, it's easy to see why everyone had gathered here to witness a monumental milestone in Boomtown's history.
Further down the steep wooded hill, something very different but just as special was about to take place - A.M.C b2b Turno on Bang Hai. While this may not seem like a feasible comparison, this was the DJ set many had been waiting for. As one of the newest and most exciting d'n'b combinations in the scene, emotions were running high for what turned out to be one of the most explosive sets of the weekend.
The sheer scale of Bang Hai's lasers combined with the duo's ferocious mixing speed led to an adrenaline-pumping hour and a half where both DJs showcased enormous amounts of passion on stage - waving flags, scratching the decks, and constantly going crazy to each others mixing.
As the main stages closed over the weekend, the music did not end there - with various unusual mini worlds springing into life across areas such as DSTRKT 5 and Metropolis. The mysterious doorways that remained closed throughout the day suddenly opened, revealing intimate venues hosting everything from exotic cabaret to half-naked people on stage stripping to music whilst pouring baked beans and UV paint down themselves. This place felt like Glastonbury's Shangri-La night spot on steroids. 
With it being the final outing of the festival, Sunday represented a more relaxed day, with everyone lethargically making their way to the stages late afternoon. Headliners Limp Bizkit took to the Town Centre, whilst elsewhere saw performances from Charlotte De Witte in the Psy Forest, jungle legends Bryan Gee b2b Jumpin' Jack Frost on Robotika, and a huge b2b between Special Request, DJ Zinc and Eats Everything on Bang Hai.
But it was the special guest closing Sector 6 that caused mass Chinese whispers throughout the day. Chase & Status, Noisia, TQD - no one had any idea what was to come - until MC Tonn Piper walked on stage in his red hooded top. This meant only one thing, d'n'b legend Andy C was the man tasked with waving goodbye to Chapter 10.

With a sea of people in attendance, Andy C's immense mixing ability, combined with the stunning lasers and pyrotechnics of Sector 6 illuminating the skyline, created the climatic finale the tenth anniversary of the festival deserved.
As the set came to an end, the CEO of Boomtown appeared on screen and delved into the overall narrative - demanding the system be shut down as it had gotten out of hand. This led to the announcement of Chapter 11: A Radical City. Boomtown shall return.
However, this festival was not yet finished. With the crowds flooding back across the site - seeking any remaining music - the distant sound of drums could be heard coming from the Hidden Woods. As we entered, we were greeted by groups of people banging oil drums in different rhythms and tempos. Feeling like something of a cult gathering, this closing ceremony has become a ritual at Boomtown after the music ends, signaling the official closure of the festival. A rather bizarre, immersive, but enlightening experience - a fitting definition of Boomtown.